---
NuMedica Phosphatidyl Serine Soy Free
New
Vegetable Capsule Gluten Free Vegetarian
Cognitive Function & Memory
Nutritional plant-based supplement targeting the cellular level of the brain naturally to enhance cognitive function and memory.
Size: 60 capsules
UPC: 812527011922 SKU: NM68


view related products
Improved Cognitive Function with Phosphatidyl Serine Soy Free
NuMedica Phosphatidyl Serine is a soy-free formula that can help you maintain or improve your cognitive function with its nutritional composition that targets the cellular level of your brain's function. Many natural foods have been shown to enhance brain function. Now, you can take one convenient nutritional supplement to improve everyday cognitive functions like concentration and memory.
What Is Phosphatidyl Serine?
Phosphatidyl serine is a natural chemical that is made in the body. However, most of this chemical is received through our diet. This chemical is needed by various parts of the body including the brain. It is needed to maintain cellular function, particularly in the brain. Many people, young adults and the elderly alike, have found that a phosphatidyl serine supplement improves their thinking abilities, reduces depression, and enhances memory. Some researchers suggest it can improve symptoms of ADHD and even prevent stress related to exercise or athletic activity. This chemical may also enhance other aspects of brain function.
The Benefits of Phosphatidyl Serine
Initial studies have demonstrated that plant-based phosphatidyl serine supplements can help improve cognitive function and enhance memory. In fact, cow-derived plant-based phosphatidyl serine supplements showed some improvement in people with mild memory-loss symptoms associated with Alzheimer's disease. The fear of mad cow disease, however, has encouraged scientists to look more closely at plant base based phosphatidyl serine, which is often derived from plants like soy and cabbage. NuMedica Phosphatidyl Serine is plant-derived but does not contain soy.
Plant-based phosphatidyl serine
Contains no soy
Supports cognitive function
Enhances memory
Serving Size: 1 Capsule
Servings Per Container: 60
---
Directions: Take one capsule up to three times daily or as directed by your healthcare practitioner.
| Ingredient | Amount |
| --- | --- |
| Phosphatidyl Serine | 100 mg |
  Related Wellness Resources
We encourage you to take advantage of these FREE Wellness Resources on our website.
---
---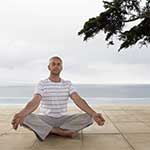 Three Secret Weapons to Combat Stress: Part 3
My last secret weapon against stress is: Strengthening and Stilling the Mind. You may think this is silly, or easy, or not a real weapon. But let me tell you, a clear head is one of the greatest possible weapons you can have to combat all kinds of stress.

What's on Your Mind?
Ask questions. Share your thoughts. Note that we cannot answer questions relating to specific medical conditions - please refer those to your qualified healthcare provider. Post a new Comment or Reply to an existing one.
Help for using the Discussion Forum.
What's on Your Mind?
Share your thoughts. Post a new Comment or Reply to an existing one.
Help for using the Discussion Forum.
 Discussion Forum Help
---
Comments are displayed in order of the last one posted so the most recent Comment is at the top and older Comments are towards the bottom. Replies within a Comment are displayed in reverse order with the oldest Reply at the top and the most recent one at the bottom.
Each post identifies who made the post and the date and time the post was made.
Mouse over the icons for tooltips that explain what the data means.
If you see this icon you can attach an Audio file to your post.
If you see this icon you can attach a Document file to your post.
If you see this icon you can attach an Image file to your post.
If you see this icon you can attach a Video file to your post.
You will see the Ban icon (Report Post as SPAM) immediately following the Timestamp of the post. Click this icon if you feel strongly that the content posted is not appropriate and should be reviewed by the Forum Moderator. You will be provided with a confirmation dialog to be sure you wish to submit this post for review. If submitted, the Forum Moderator will be notified to review the post and will determine what type of action to take.
Click in the upper right corner of this Help modal or anywhere on the web page outside of the modal to exit Help.
×
NuMedica Phosphatidyl Serine Soy Free
$
49.90
New Available online