Healthy & Sustainable Weight Loss
Losing fat and weight can be challenging. Many people jump into diets that aren't healthy for them. They may end up losing some weight, but it usually comes back once the diet ends. This is the case for many of the diets around today. They're not sustainable. Those who need to lose weight, especially if they need to lose a significant amount, struggle to keep the weight off after the diet ends, because they often go back to their former eating habits, which usually causes the lost weight to return.
Are YOU ready for a new, healthier lifestyle?
It is possible to lose weight and keep it off long-term through dietary changes that are sustainable. If you are ready to start losing weight today, these Suddenly Slim weight loss programs can help help! *†
---
  FirstFitness Nutrition - Suddenly Slim Weight Loss Programs   5:17
FirstFitness Nutrition - Suddenly Slim Weight Loss Programs
How Suddenly Slim Can Help
---
Suddenly Slim is a diet program designed for sustained weight loss. It is intended to help melt the fat off, but also to help you get the new lifestyle that makes it possible to keep the weight off. Suddenly Slim offers four products and three programs designed to give you all of the health benefits you're looking for. They help to curb your appetite, support fat burning, increase your energy and more.*† The products can help you learn how to eat correctly without having to count calories or follow a strict diet plan, so you can eat foods you enjoy while eating healthier.
FOUR
POWERFUL
PRODUCTS
Boost Weight Loss Program
---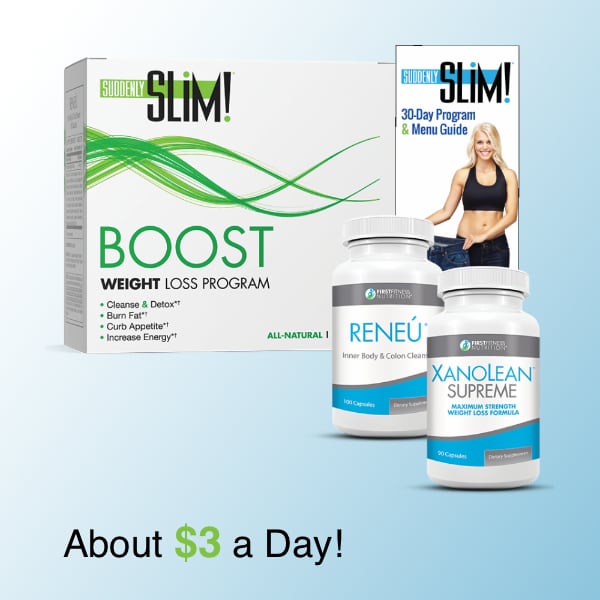 View Program Details
THREE
COMPLETE
PROGRAMS
Accelerate Weight Loss Program
---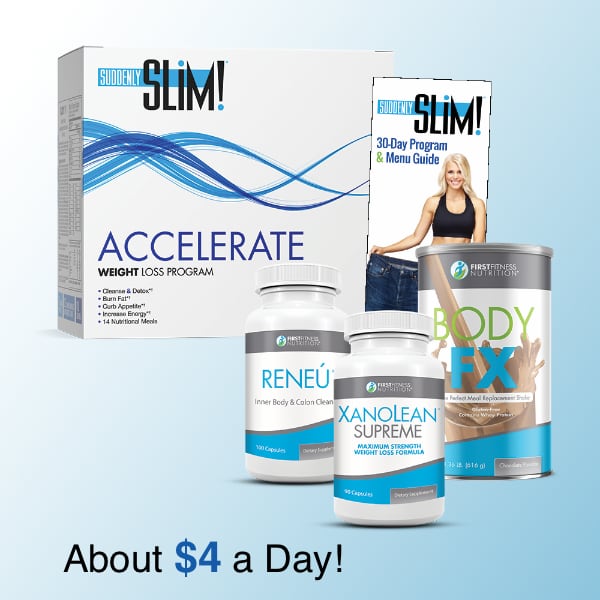 View Program Details
YOU'VE GOT
NOTHING TO LOSE
BUT THE WEIGHT
Transformation Weight Loss Program
---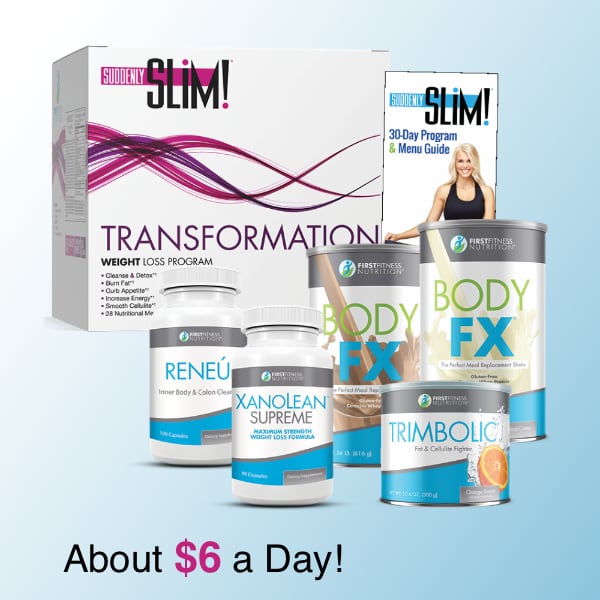 View Program Details
Success at a Healthy Rate
If you're like most people who want to get rid of extra weight, you want to see results fast. It can be more difficult to stick with a diet of any kind if you don't see results pretty quickly, and that's normal. While weight loss should be slow and steady, at first, you might see a more rapid reduction in weight.*† After you've lost some weight, the weight loss might slow down or you might plateau for a little while.6 However, that's nothing to worry about because you are still eating healthy, so the weight is still coming off even if it's slowly, and it's disappearing at a healthy rate for your body. With Suddenly Slim, you can get to where you want to be.
The Obesity Issue in the United States
The United States ranks number one in the world for obesity. Between 2015 and 2016, nearly 40%1 of adults in the US were obese, with 7.6% being severely obese. Another almost 32% of adults were overweight. Over the last several decades, obesity rates have increased throughout the population groups within the United States. The cause can be linked to a few different issues, though the main culprits are an abundance of unhealthy food options and many adults simply not knowing how to eat properly.
In the US, there are plenty of restaurants as well as fast food places to go to eat. When someone is busy, fast food often seems like the easiest option because they don't need to spend an hour cooking and can feed the whole household. This becomes an issue when it's the dinner – or breakfast or lunch – of choice far too often. The cheap food might taste good, but it's filled with empty calories2 that are going to just increase a person's weight.
Along with this, many Americans simply don't know what a healthy diet looks like. Statistics show that many people in the US do not eat enough vegetables, don't have a very varied diet, and don't make the right choices for food when they do eat at home. It's far easier to simply grab an unhealthy snack than to take the time to make something, and it can seem less expensive as well. All of this together has created an epidemic of obesity within the country, one that's difficult to get away from.
What Obesity Can Cause
Being overweight or obese can lead to a host of other issues. The human body is not designed to hold onto all of the extra weight that occurs when someone gains too much weight, whether it's from a poor diet or from other issues. Obesity can lead to high blood pressure, heart disease, diabetes, and more. It can also lead to an increased chance for someone to have cancer3. Many people who are overweight also report higher levels of stress and anxiety, as well as pain and inflammation.
When someone is significantly overweight, their body is unable to handle it well. It stresses out everything else inside the body, from the bones and joints to the heart and digestive system. This is why people who are overweight tend to have more medical issues compared to those who weigh a healthy amount. The good news is, however, that a lot of the issues that someone who is obese may suffer from can be reduced by losing weight. When the weight is kept off long-term, they can decrease the health issues and, in some cases, find complete relief from the issues they had when overweight.
Benefits of Losing Weight in a Healthy Way
If you're looking to lose weight, the obvious immediate benefits are that you'll look better, feel better, and fit into your clothes better. However, none of this will last if you're not making the right changes to lose weight. Some of the benefits of losing weight in a healthy way include the following.
Ability to Keep Weight Off – When you lose weight in a healthy way, you learn how to eat better, which enables you to keep the weight off. There's no more worry about the pounds piling back on or you having to start a new diet just to get your weight under control again.
Ability to Enjoy New Activities – When the weight is off for good, it's possible to participate in new activities that might not have been possible with the extra weight. With joints that feel better, this can be as simple as being able to spend more time in the garden, being able to exercise and go on a run, or just being able to do activities without the anxiety that the extra weight will make it difficult or impossible.
Ability to Reduce Health Issues Permanently – Weight loss that is long-term can help reduce the weight-related issues that those who are obese have4. If you've had issues with your joints because of the extra weight, losing it can help you feel better and reduce the pain significantly. This can have a profound change in your overall health and how you feel each day.
Ability to Improve Self-Esteem – When you lose weight, your self-esteem tends to improve significantly because you feel better about your body and yourself. When the weight loss is done in a healthy way and is sustainable, you'll continue to see improved self-esteem.
Why Most Diets Don't Work
Sustainability is the number one reason why most diets don't work. Of course, they help people lose weight quickly. If the weight doesn't stay off, however, it was all a waste. Most diets are designed to encourage rapid weight loss, often by using techniques that are hard on the body and simply can't be sustained for long5. A soup-only diet, for instance, can help take a significant amount of weight off, but no one can just live on soup for the rest of their life.
When a diet isn't sustainable and isn't something that can be done long-term, the weight is just going to come back when the person goes back to the way they were eating before the diet. Of course, many people do try these diets with the idea that they'll completely change how they eat once the diet is over and they'll be able to keep it off. The problem is, they haven't done any of the work to change their habits and will end up quickly reverting to what they used to eat, gaining the weight again.
A Change in Lifestyle is Required
When someone wants to lose weight and keep it off, they need to change their lifestyle. This is not something that's done quickly and it's not something that happens overnight, but it is required for sustained weight loss. To lose weight is not necessarily difficult in many cases, as the plethora of diet programs have shown. But to go right back to eating fast food frequently or choosing calorie-filled foods frequently means that it's going to be impossible to keep the weight off. Instead, if you'd like to lose weight and keep it off for good, you have to be willing to change your lifestyle and commit to a healthier overall lifestyle.
A Change in Lifestyle Doesn't Have to be Hard
A change in lifestyle isn't something that's instant and it does take work, but it doesn't have to be hard. Small changes can make a huge difference. Following the right guidelines, learning what healthy eating looks like, and learning how to start eating healthy and make it sustainable are the main components for lifestyle changes that can lead to sustained weight loss.
If you're willing to follow along with the guidelines and learn how to make healthier food choices, it is possible to change your lifestyle and keep the weight off. This doesn't mean avoiding fast food and other options all of the time, either. As you learn how to eat healthily and actually change your lifestyle, you can have treats without reverting back to the way you used to eat. Since it's a lifestyle change, it's something that sticks with you even if you decide to have a treat once in a while.
What Needs to Change
Basically, what needs to change is your relationship with food. It doesn't really matter what your diet looks like right now. If it's not a healthy diet, it needs to change. This is done by learning how to choose healthier options, learning how to eat the right amounts and stay feeling full longer, and, for some people, learning what other options they have besides a snack when they're bored or if they feel just a little bit hungry. This can seem like a lot to change, but with the right help, it is possible to make these changes and start a new, healthier lifestyle that will not only lead to weight loss but make it easier to keep the weight off for good.
Keep the Weight Off
Weight loss shouldn't just be about getting rid of the excess weight. It should also be keeping it off, which is the difference Suddenly Slim makes. You'll learn how to live a healthier lifestyle, which means you won't have to worry about the weight just suddenly coming back again. You'll be able to make long-term changes that allow you to keep the weight off for good. Losing weight has always been a struggle for many people, but it doesn't have to be. Making the right choices regarding food is something that can be learned and can enable someone to not only lose weight but keep it off for good. If you're looking for a sustainable weight loss program, learn more about Suddenly Slim and the benefits it offers today.
Citations:
1 https://www.marketwatch.com/story/the-us-is-the-most-obese-nation-in-the-world-just-ahead-of-mexico-2017-05-19
2 https://www.healthline.com/health/food-nutrition/empty-calories#identify
3 https://www.mdanderson.org/publications/focused-on-health/how-does-obesity-cause-cancer.h27Z1591413.html
4 https://www.cdc.gov/healthyweight/losing_weight/index.html
5 https://www.psychologytoday.com/us/blog/changepower/201010/why-diets-dont-work-and-what-does
6 https://www.mayoclinic.org/healthy-lifestyle/weight-loss/in-depth/weight-loss-plateau/art-20044615
FirstFitness Nutrition Warranty & Disclaimer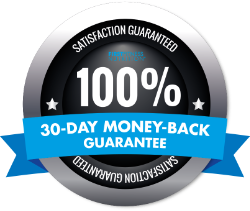 Any Retail Customer not completely satisfied with a FirstFitness Nutrition product, for any reason, can return them within 30 days of purchase for a full refund, less shipping and handling, no questions asked.
FirstFitness Nutrition is a leader in the Wellness industry offering exclusive, all-natural herbal products that are backed by science and recommended by doctors.
---
* These statements have not been evaluated by the Food and Drug Administration. This product is not intended to diagnose, treat, cure, or prevent disease.
† When used in conjunction with the Suddenly Slim Program | Menu Guide, which includes diet and exercise products.
SupplementRelief.com Customer Support
SupplementRelief.com is an authorized FirstFitness Nutrition Independent Distributor. We have first-hand, practical knowledge using the products to help people achieve Weight Loss, Wellness and Look and Feel Better.
---
e-Mail [email protected] or call 888.424.0032 anytime for:
determining which products are right for you
answering product questions
getting guidance on how to use the products to get the maximum benefit
We enjoy talking with you and will spend as much time with you as needed.