---
NuMedica Pan-V Rx
Vegetable Capsule Gluten Free Vegetarian
Vegetarian Digestive Enzyme Blend
Provides a superior blend of natural plant enzymes active in a broad pH range to aid in food digestion.
Size: 90 capsules
UPC: 812527011304 SKU: NM130


view related products
NuMedica Pan-V Rx for Digestive Support
NuMedica Pan-V Rx is a powerful digestive enzyme that supports the digestive system's ability to efficiently break down proteins and carbohydrates. With its porcine-derived pancreatic enzymes, NuMedica Pan-V Rx can help your body effectively absorb the vitamins and nutrients contained in the foods you eat. There are various reasons why raw-pancreatic enzymes can be beneficial to take. Your physician may recommend that you take them to enhance your digestive process.
Why Should You Take Digestive Enzymes?
Sometimes the pancreas does not produce the amount of pancreatic juice required by our digestive systems. This juice contains digestive enzymes that help us break down food and absorb its important nutrients. If there is a blockage in the pancreatic duct or you have a condition that slows the production of pancreatic juice, you may begin to suffer from malnutrition or even weight loss. Taking a pancreatic supplement like NuMedica Pan-RX ensures that you have the enzymes you need to break down your food.
Indigestion and Pancreatic Enzymes
Many people find that taking a digestive enzyme like NuMedica Pan-V Rx can reduce the symptoms of indigestion, which can involve bloating and abdominal discomfort. Naturally, it's important to have your physician evaluate your indigestion to ensure an underlying condition is not present. Often, however, indigestion simply occurs with age. Your doctor may recommend that you begin a course of digestive enzymes to improve your body's digestive process.
Contains porcine-derived enzymes
Supports digestive system function
Improves vitamin and nutrient absorption
May reduce the occurrence of indigestion
Serving Size: 1 Capsule
Servings Per Container: 90
---
Directions: Take one capsule with or after each meal or as directed by your practitioner.
| Ingredient | Amount |
| --- | --- |
| Proprietary Multi-Enzyme Blend: | 530 mg |
| Protease | 12,500 HUT |
| Protease, Acid-Stable | 100 SAPU |
| Amylase | 2,500 DU |
| Lipase | 750 FIP |
| Cellulase | 500 CU |
| Lactase | 200 ALU |
| Papain (from papaya) | 6,000 FCCPU |
| Bromelain (from pineapple) | 5,000 FCCPU |
  Related Wellness Resources
We encourage you to take advantage of these FREE Wellness Resources on our website.
---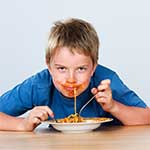 What's on Your Mind?
Ask questions. Share your thoughts. Note that we cannot answer questions relating to specific medical conditions - please refer those to your qualified healthcare provider. Post a new Comment or Reply to an existing one.
Help for using the Discussion Forum.
What's on Your Mind?
Share your thoughts. Post a new Comment or Reply to an existing one.
Help for using the Discussion Forum.
 Discussion Forum Help
---
Comments are displayed in order of the last one posted so the most recent Comment is at the top and older Comments are towards the bottom. Replies within a Comment are displayed in reverse order with the oldest Reply at the top and the most recent one at the bottom.
Each post identifies who made the post and the date and time the post was made.
Mouse over the icons for tooltips that explain what the data means.
If you see this icon you can attach an Audio file to your post.
If you see this icon you can attach a Document file to your post.
If you see this icon you can attach an Image file to your post.
If you see this icon you can attach a Video file to your post.
You will see the Ban icon (Report Post as SPAM) immediately following the Timestamp of the post. Click this icon if you feel strongly that the content posted is not appropriate and should be reviewed by the Forum Moderator. You will be provided with a confirmation dialog to be sure you wish to submit this post for review. If submitted, the Forum Moderator will be notified to review the post and will determine what type of action to take.
Click in the upper right corner of this Help modal or anywhere on the web page outside of the modal to exit Help.
×
NuMedica Pan-V Rx
$
27.90
New Available online