Do YOU have a strong DESIRE to EARN income working from home to build a better future?
For over 30 years, ordinary people have built extraordinary, personal businesses with FirstFitness Nutrition. They come from all walks of life with different backgrounds, challenges, hopes, and dreams.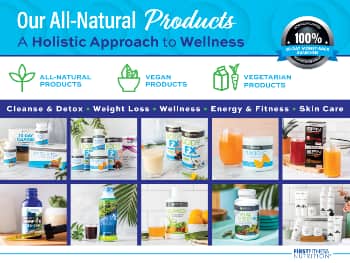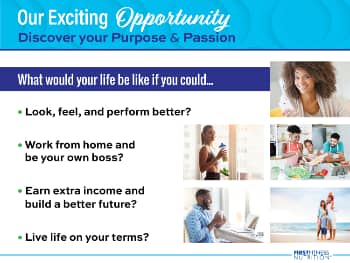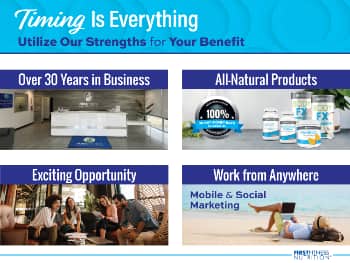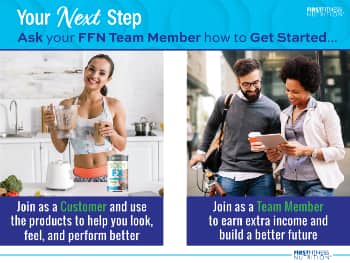 Why Would You Want to Build Your Own FirstFitness Business?
Some of the more common reasons include:
Earn more money
Pay for a recurring monthly expense such as gas, groceries, rent or your house note
Pay down or get out of debt
Travel or take a vacation
Start an education fund
Save for some other goal
Reduce or replace the income required from another job for you or your spouse
Work from home
More family time
More freedom to pursue the interests you are passionate about
Here's the Basics of How it Works
USE the Products. Your product experience gives you the belief and confidence to recommend what you use.
CONNECT with People. Let people know you are open for business with the Mobile App and social media tools FirstFitness provides.
SHARE your Story. Let people know how FFN is changing your life with the products and the business opportunity.
Putting Your Business Together
FirstFitness Nutrition provides the products, training, tools and most importantly THE PEOPLE to TEACH & SUPPORT YOU that are needed need to help launch a successful business, get customers, keep customers, and grow. You are NOT expected to figure out and do this all on your own. You will connected to successful people in your team organization that will coach, encourage, and support you throughout your journey!
It starts with an Action Plan where you think through and make initial assumptions and decisions about your business. These typically change over time as you learn more about the products, business, and especially yourself. Whether your initial goal is to replace a full-time income or simply earn enough to pay for the products you use each month, it is important to be clear about what your priorities are so you can budget your time and effort accordingly.
What is Your Why?
What is the reason and purpose you want your own business? Most successful people are strongly motivated to solve a difficult challenge they are living with, to make life better for themselves and/or their family. The underlying theme is generally wanting to have more freedom to choose how they will live their life.
Quality of life is more than just money. It includes our spiritual and physical health, self-esteem, being proud of what we do, relationships, having more control over how we get to use our time, being in position and able to help others, and much more. This usually requires having enough financial resources. Things typically go downhill in most other areas of our life when we are struggling day-to-day just to survive financially.
You need to be passionate about your "Why". Being successful at anything worthwhile requires work and perseverance, and when things get tough, and they will from time to time in any worthwhile pursuit, you need to remember why you are doing this to help you push through the obstacles to see your business take shape and grow.
Success is not easy, but it is worth it!
What Does Success Really Look Like?
You will NOT GET RICH QUICK doing this. Building a successful FFN business requires your personal passion, time, effort, commitment, and perseverance. If you are looking for a "get-rich-quick" scheme, this is NOT for you.
The majority of people who initially get involved with FirstFitness do not start off with lofty financial goals, but some do. They typically begin with the desire to save on their personal product purchases, learn more, and see if this makes sense for them. They may have a part-time income goal of paying for a recurring monthly expense such as their groceries, a car note, or something similar. They begin learning more about the people, products and opportunity, and start investing more of their time and effort into developing their own business potential. They gradually begin experiencing more sales, having more confidence to tell others about how the FirstFitness Nutrition products and business opportunity is actually helping to change and improve their own personal life. From there things can get really interesting and exciting as you see the "big picture" and increasingly commit more to your business.
You are not expected to come into this being a great salesperson, business manager, or entrepreneur. The majority of people who are successful with FirstFitness Nutrition have common backgrounds such as:
Homemaker
Student
Teacher
Coach
Trade skill worker
Laid-off from other employment
Career change
Retired
Many others
People who are very successful with FirstFitness Nutrition typically have a strong underlying reason for owning their own business, and are:
Self-motivated
Teachable
Hard workers
Care about people
Enjoy talking to people
FirstFitness WILL provide you with the people, products, training, tools and support system you need. You, however, will have to do the work.
This is a People Business
Here's what it all really boils down to. To be successful you need to use and love the products yourself and genuinely care about other people and trying to help make their lives better. This is a people business. We all respond better to someone when we know they are genuine with their words and actions and we believe that they really care about us. If this business is not making your life better, how can you persuade others that it will help them make their life better?
---
Some Final Thoughts
I've had the opportunity to do a lot of things over my 35+ year business career that included 10 years with fast-paced technology companies in Silicon Valley in the 90s, being a part of several high-tech start-up companies, consulting with small business owners to help them start and grow their own businesses, and eventually settling into owning my own businesses working from home. I've seen a lot of work-from-home, network marketing opportunities over the years. Some few like FirstFitness have great leadership, products, help real people, and are in business for the long-term—which only happens when you are adding real, sustainable value to other people's lives. Others are more about hype and making a fast buck, which does not work long-term, and gives the industry a bad reputation.
What I love about FirstFitness is that the people, products, and opportunity are real. Ordinary people can use them, experience physical and financial change, and feel better about themselves. The people who choose to be a part of this company are real people, with real problems, who made a decision to do something about improving their own life, and stuck with it eventually experiencing success.
I'm proud to be a part of the FirstFitness Nutrition family and encourage you to take a serious look at how you can change your life for the better.