Live Better By Choosing Nutritious, Whole Foods
With the significant rise in sickness, obesity, and lifestyle disorders over the past 100 years, you can never be too careful when choosing what you put into your body, and mind for that matter. Many health and wellness issues may be due to our consumption of processed or inorganic foods. If you want a healthier and more fulfilling life for yourself and your loved ones, you cannot go wrong by choosing organic or whole foods.
  Great Grandpa's 150 Year FOOD Rule    4:25
If your great-grandfather didn't eat it, you should probably consider not eating it.
Why Are These Foods So Special?
These foods were chosen because they have special properties like:
Vitamins
Minerals
Phytonutrients
Carotenoids
Antioxidants
Fiber
Flavenoids
Resveratrol
Good Fats
Probiotics
Anti-inflammatory Properties
For those of you who ARE sensitive to gluten and/or dairy, try this healthy gluten-free and dairy-free whole foods shopping list.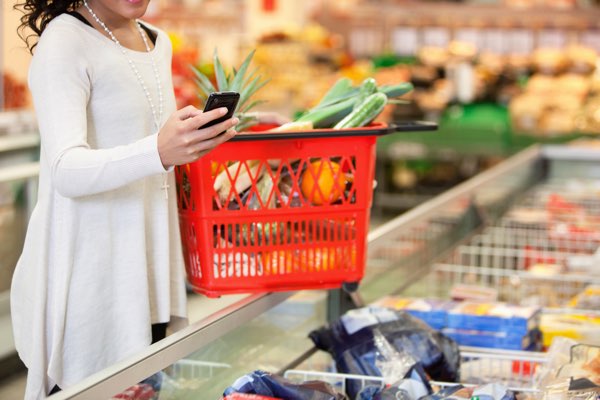 ---
Grocery List of HEALTHY FOODS
When in doubt use THE 150 YEAR RULE: If it wasn't around 150 years ago, you shouldn't eat it!
Indicates the top five most healing foods on our list! Extracts of these foods are often found in high quality supplements.
| | | | |
| --- | --- | --- | --- |
| Almonds (Milk too) | Asparagus | Arugla Lettuce | Avocado |
| Barley | Beans (all kinds) | Beef (lean) | Beets |
| Blackberries | Blueberries | Broccoli | Carrot |
| Cacao (cocoa) | Chicken | Cherries | Chickpeas |
| Cilantro | Cinnamon | Coconut Milk & Oil | Cumin |
| Dandelion Greens | Eggs | Elderberry | Flaxseed |
| Garlic | Ginger | Grapefruit | Hazelnuts |
| Honey | Kale | Kombu | Lemon |
| Lime | Maca | Mangoes | Millet Mushrooms |
| Olives/Olive Oil | Onion | Oranges | Oregano |
| Papaya | Passionfruit | Peanut Butter (natural) | Pears |
| Pecans | Peppers | Pineapple | Pistachios |
| Plums | Polenta | Pomegranates | Quinoa |
| Raspberries | Rice (brown) | Romaine Lettuce | Salmon |
| Scallion | Shrimp | Spinach | Squash |
| Sunflower Seeds | Steel Cut Oats (Irish) | Strawberries | Sweet Potatoes |
| Swiss Chard | Tea (Green) | Tomatoes | Tuna |
| Walnuts | Whey Protein | Yogurt (Greek) | |
| | | |
| --- | --- | --- |
| Almonds (Milk too) | Asparagus | Arugla Lettuce |
| Avocado | Barley | Beans (all kinds) |
| Beef (lean) | Beets | Blackberries |
| Blueberries | Broccoli | Carrot |
| Cacao (cocoa) | Chicken | Cherries |
| Chickpeas | Cilantro | Cinnamon |
| Coconut Milk & Oil | Cumin | Dandelion Greens |
| Eggs | Elderberry | Flaxseed |
| Garlic | Ginger | Grapefruit |
| Hazelnuts | Honey | Kale |
| Kombu | Lemon | Lime |
| Maca | Mangoes | Millet Mushrooms |
| Olives/Olive Oil | Onion | Oranges |
| Oregano | Papaya | Passionfruit |
| Peanut Butter (natural) | Pears | Pecans |
| Peppers | Pineapple | Pistachios |
| Plums | Polenta | Pomegranates |
| Quinoa | Raspberries | Rice (brown) |
| Romaine Lettuce | Salmon | Scallion |
| Shrimp | Spinach | Squash |
| Sunflower Seeds | Steel Cut Oats (Irish) | Strawberries |
| Sweet Potatoes | Swiss Chard | Tea (Green) |
| Tomatoes | Tuna | Walnuts |
| Whey Protein | Yogurt (Greek) | |
What Are Organic Foods?
Organic foods differ from inorganic foods in several aspects. The major differences include:
Natural foods are farmed using natural organic fertilizers such as compost or manure from animals. On the other hand, inorganic foods are grown with the help of processed fertilizers that have chemicals.
If any weeds appear in an organic farm, they are usually controlled using natural methods such as weeding by hand, mulching or through crop rotation. For foods grown inorganically, any weeds that crop up are usually controlled through the use of factory-produced herbicides.
For organic foods, pests are controlled using natural means such as using birds, traps, insects or any pesticides that have been produced naturally without the addition of any chemicals. In an inorganic farm, crop pests are usually controlled using pesticides that are manufactured synthetically using chemicals.
Why Should You Consume Groceries and Whole Foods Grown Organically?
Food that you consume has a direct impact on your general health and well-being. Organically grown produce has a lot of benefits to the user compared to inorganically farmed produce. Below are some of the advantages of consuming natural and whole foods.
Less Risk of Chronic Ailments
Over the last 60 years there has been a substantial rise in the number of chronic ailments such as cancer and diabetes. Research has shown that many of these diseases are caused by chemicals found in the inorganic foods that we consume.
When growing inorganic foods, farmers usually use pesticides, herbicides and other farming products designed to hasten the growth of produce. These products can contain high levels of harmful chemicals that predispose the users of inorganic produce to a high risk of contracting chronic ailments such as cancer.
Farm produce grown organically, on the other hand, minimizes exposure to harmful chemicals that may put the consumer at risk of diseases.
Natural Produce Is Good For The Skin
Skin care is a huge priority for many of us. Natural and whole foods may help to achieve a glowing and nourished skin.
Research has shown that foods such as avocados and dark chocolate may help protect the skin from the effects of excessive exposure to the sun.
What's more, studies suggest that regular consumption of organic vegetables helps in rolling back signs of early aging such as flaccid skin and wrinkling.
You Get More Diversity With Attached Benefits
Yes, there are many types of inorganic foods and processed meals that you can consume but the drawback is that these foods do not offer any real health benefits. In most cases, all you will get is a full stomach.
Should you choose organic foods, you will have a wide range of items that you can put on your menu which have tangible and proven benefits. You can choose foods such as vegetables, fruits, whole-grains, seeds, legumes and nuts.
Less Risk of Obesity
Across the world, authorities are reporting a huge spike in obesity levels in their citizenry. This has been occasioned by the consumption of processed foods that contain high and unhealthy fat levels, as well as additives that our bodies' were never meant to digest or process.
One great thing about organic foods such as nuts and vegetables is that they contain naturally occurring fats that have a lot of health benefits. Some examples include:
Coconut oil has fats that help in cutting excess weight
The oil from olives has monounsaturated fats that are highly effective in promoting better health in the cardiac system
There are many other natural foods that contain high levels of healthy fats such as avocados, and, various nuts.
Better Gut Health
If you face gut-health problems, and you may be facing them with knowing, you should consider consuming natural foods. Natural foods such as cocoa, garlic, and asparagus contain prebiotics and bacteria which ensure that you have better gut health.
Less Sugar Cravings
Excess consumption of sugary materials can lead to dental problems and health complications such as diabetes. Most natural foods do not contain a lot of sugar and this is perhaps the reason why many people avoid them.
However, once you start introducing your body to whole unprocessed foods, it will likely adjust to your new-found tastes. As you follow your new diet with consistency, you may eventually find that you no longer have a taste for sugary foods which will be a big plus health-wise.
Your Body Will Get The Desired Fiber Levels
Many organic and whole foods have high levels of fiber which is crucial for good health. Consuming foods that are high in fiber means that you will have better metabolic health, impeccable health in your digestive system and further, you will feel more full meaning that you will eat less.
Many processed foods lack fiber and for this reason, most consumers of processed foods tend to turn to supplements. You can, however, give your body the daily dose of fiber that it needs by consuming several types of fiber such as avocados, flaxseeds, beans, chia seeds and leguminous groceries.
Natural Foods Lower Blood Sugar Levels
Diabetes is a cause for concern for many people across the nation and the entire world. Recent studies have put the total number of people suffering from diabetes at 400 million. At this point, it is important to note that high blood sugar levels is the leading cause of diabetes.
People who already have diabetes or those who are at high risk of getting this disease can lower their sugar levels by consuming organic produce that has high fiber levels. Some of the recommended foods include different types of nuts and vegetables.
Major Health Benefits Offered By Different Organic Products
Living a healthy life is all about consuming an all-round nutritious diet. Different organic foods have different health benefits. You cannot simply focus on consuming one type of food and think that you will live a healthier lifestyle. Think about our great ancestors who had to eat different foods during different seasons because certain animals and plants were more prevalent based upon seasonal climate. It is because of modern manufacturing and distribution processes that we have foods that are now easily transported all over the world and can be preserved in cans and packages for long lengths of time. Our bodies we never meant to eat the same foods routinely. In fact, we should ideally rotate our foods providing at least a four-day interval before we have the same food again.
If you want to be healthier in all aspects, consider rotating your diet more frequently with different types of foods.2 Below, we will classify different natural foods for the nutrients that they provide.
Vitamins
B-1 Vitamins: Squash, watermelons and squash
B-2 Vitamins: Cereals and whole grains
B-3 Vitamins: Potatoes, mushrooms and wholegrains
B-5 Vitamins: Avacadoes, brocolli, mushrooms and wholegrains
B-6 Vitamins: Bananas and soy beans
B-7 Vitamins: Soy beans and whole grains
Vitamin C: Brocolli, brussel sprouts, spinach, bell peppers, tomatoes and citrus fruits
Vitamin D: Cereals
Vitamin A: Carrots, spinach, pumpkins and sweet potatoes
Vitamin E: Green leafy vegetables, nuts and whole grains
Vitamin K: Spinach, brocolli, cabbage and kale
Minerals
Calcium: Green leafy veggies
Magnesium: Legumes, Brocolli, spinach
Flouride: Green read
Copper: Beans, nuts, wholegrains and seeds
Manganese: Legumes, tea, wholegrains and nuts
Zinc: Wholegrains and legumes
Antioxidants
Garlic, leeks, eggplant, pumpkin, grapes, carrots, apricots, spinach, berries, watermelon, green leafy vegetables, soybeans, peas, whole-grains and capsicum
Carotenoids
Yams, kale, spinach, bell peppers and cantaloupes
The benefits described above do not point to all health benefits of organic foods. There are many health benefits you can get from organic foods and the ones listed above do not even come to scratching the surface.
A Guide On How To Shop For Healthy Foods
You may have already decided to go for natural and whole foods due to their immense health benefits but you may be wondering how to go about finding foods that are truly organic and unblemished with processed chemicals. Below are some considerations when grocery shopping.
Consider Your Needs
Different types of organic foods have different types of health benefits. Before going shopping, identify your needs. Make a shopping list. This will help you narrow down on stores in your locality that stock the type of organic foods that you are seeking. To identify your specific nutritional needs, you may choose to consult a dietary specialist.
Check The Store Rating
Before purchasing organic foods at a store, check the rating given to the store by the health department. It does not make sense if you purchase organic foods only to develop health complications because you got your products in a store that is known for less than stellar hygiene levels. Ideally, you should make your purchases in an A-rated store.
Consider The Price
Different stores stock and offer organic produce at different rates. To get the best deals for your organic produce, check out the rates in different stores before making a purchase. Due diligence can help you save a lot of money in the long run.
Check Out The Labels
Before purchasing produce, check out the labels put up in different stores. Never assume that any produce you see on shelves has been produced organically. Most stores typically put up labels with a view of helping consumers differentiate between produce that has been farmed organically and inorganically. To spot organic produce check for labels such as: natural, organic and Certified Naturally Grown (CNA).
Think About Your Personal Motivation
Are you more health conscious or are you more worried about the health complications that may arise if you consume food that is grown using chemicals? Your personal motivations will have a big impact on your shopping patterns.
Query The Store Owners
The best way to understand more about the produce you are about to purchase is to question the owner of the store. Consider asking about the origin of the produce, the dependability of the supplier and whether the owner can guarantee that the product has indeed been grown organically.
Consider Buying Directly From Farmers
The best guarantee that you can make that you are buying organic produce is to get it directly from farmers. By visiting the grower of the produce at their farm, you will get a chance to interrogate their farming methods and gauge if you are okay with the organic practice that the farmer has in place. Many communities have farmers markets on Saturday mornings where there is opportunity to get fresh, local organically produced foods at great prices. Besides, we might just enjoy getting outdoors and interacting with others!
Is Buying Organic Produce Expensive?
Living a healthier and more nutritious lifestyle is not as expensive as most people think. Contrary to popular belief, you are likely to end up saving a lot of money by choosing a daily diet of natural and whole foods. Processed foods often come at a higher cost compared to natural foods because of the extra production, transportation and storage costs. More importantly, your health care cost will likely be minimized significantly as you will be at less risk for chronic disease and other illness associated with sustained, poor nutrition.
To save money when purchasing natural foods, you can:
Stick to the outer isles of the grocery store where the fresh produce is normally displayed.
Be mindful of sale prices. Fresh food only stays fresh for a few days so stores mark it down quickly to move it before it goes bad. As long as use can use it quickly this can be a good option.
Purchase your produce in bulk if you have a larger number of mouths to feed.
Buy directly from farmers.
Visit local farmer's markets if they are available in your locality.
Gradually introduce yourself to organic foods.
Consider Consulting with a Nutrition Specialist
Natural foods have many health benefits. To live a healthier life, you simply need to make a choice. To realize the full benefits of organic foods, it is advisable that you consult a nutrition specialist before beginning your new organic food diet. A dietician will be able to help you choose meals that help you meet the required nutritional requirements. Further, they may be able to advise you on where to shop in your locality.
Gradual Change is Easier and Produces Better Results
If you are not used to consuming organic foods, you don't have to overhaul your pantry and fridge in one single night. Instead, you can approach a healthier diet by making gradual change. By pacing yourself, you will increase your chances of success and give yourself more time to research organic foods that you will enjoy eating and finding local providers.
A great way to implement a transition to eating more whole foods is to simply remove or limit one unhealthy item during the week and potentially substitute in its place something healthy. For example, if you like sodas, try substituting water or tea for just one of the sodas you normally drink during the day. Over time, keep reducing the number of sodas and if you are thirsty, gradually replacing them with a healthy alternative. Another example is to substitute a piece of fruit for a candy or chip snack once a week. Or you could substitute a salad once a week for a traditional carb like a side of potatoes or bread or for a dessert. Just a little bit at a time over time is much easier for us to manage and it tends to produce a sustainable result that impacts our health and well-being in a positive way.
Citations:
1
National Association of Chronic Disease Directors https://www.chronicdisease.org/page/whyweneedph2imphc
2
Eating the Same Thing Again? 4 Reasons to Rotate Your Foods https://health.clevelandclinic.org/eating-the-same-thing-every-day-4-reasons-to-increase-variety/