History of Apple Cider Vinegar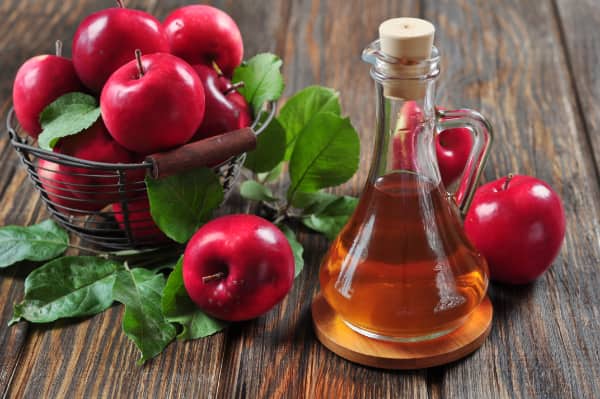 Apple cider vinegar began being touted as a superfood a few years ago as the benefits of its use began circulating in the public. As a natural home remedy with research to back up its many beneficial uses, apple cider vinegar is an inexpensive addition to your routine that can provide a multitude of health benefits. From not only being hailed as a potential reliever for symptoms of dandruff, diabetes, sore throat, and varicose veins, apple cider vinegar has much more use in your kitchen than merely as a topper for your greens. In addition to harboring antimicrobial properties to help protect against E.coli and norovirus, unfiltered apple cider's combination of yeast and bacteria has been hailed by experts as an excellent source of probiotics.
Medicinal Properties
Before the science could justify the use of apple cider vinegar, historic peoples used it for medicinal purposes like fighting infections, managing blood sugar, and healing wounds. While not all of these purposes have the science to back it up, apple cider vinegar does have a list of proven benefits from being incorporated into your diet.
Weight Loss
One method of using apple cider vinegar is by ingesting a small amount prior to eating, which evidence shows could aid in weight loss. Studies have shown that incorporating apple cider vinegar in this way yields higher rates of weight loss, specifically in the measures of reduced visceral fat, BMI, triglycerides, and waist circumference. Visceral fat in particular is a significant benefit, as it is associated with metabolic syndrome that can cause damage to the heart. In addition to weight loss, study participants that combined apple cider vinegar with a restricted calorie diet found that their appetites were decreased throughout the day. Instructions for following this method advise 1 to 2 teaspoons of apple cider vinegar before meals, either by itself or mixed into a glass of water.
Lower Cholesterol
Other proven benefits of apple cider vinegar are found in studies yielding results to support a reduction in total cholesterol, triglycerides, and LDL cholesterol from use of apple cider vinegar in less time than you would expect, with the studies confirming the results concluding within just a couple months. The evidence found in human studies was echoed in studies tried in animal labs, further supporting apple cider vinegar's effectiveness. While research doesn't support the use of apple cider vinegar alone as a treatment for high cholesterol, it is recommended as a supplemental effort in managing cholesterol levels that could be discussed with your primary health provider.
Improve Blood Sugar
One significant and often overlooked benefit of apple cider vinegar lies in its ability to greatly reduce blood sugar levels following meals that could cause a spike in blood sugar levels. Studies have shown that even a couple teaspoons of apple cider vinegar could drastically reduce the glycemic response, which could be a very important asset for individuals managing blood sugar spikes, especially those with Type 2 Diabetes. This was also echoed in studies of individuals with Type 2 Diabetes consuming 2 tablespoons of apple cider vinegar before bed whose morning glucose readings showed a reduction in blood sugar levels compared to that of their typical mornings.
Reduced Heart Attack Risk
Apple cider vinegar has also shown uses in reducing cholesterol and triglyceride levels, which in excess contribute to the onset of a heart attack. Further, alpha-linolenic acid, a primary ingredient in apple cider vinegar, has shown to reduce the risk of heart attacks in women. Apple cider vinegar also has been found to reduce blood pressure in animal studies, a significant finding as hypertension is linked to cardiovascular disease and increased mortality rates.
Improved Hair Health
Topically, apple cider vinegar is a common ingredient found in natural shampoos due to its acetic acid, which naturally helps to lower pH. Lower pH has been shown to aid in maintaining healthy hair, and apple cider vinegar's antimicrobial properties are also benefits to keeping a healthy and strong mane. Apple cider vinegar may not only help to balance and clarify your hair but also fight off bacteria that could be damaging your hair's appearance and health.
Source of Probiotics
Finally, apple cider vinegar is known for its probiotic and anti-inflammatory effects. Unlike some probiotics that encourage inflammation, like yogurt, kefir, and buttermilk, apple cider vinegar encourages the body's reduction in its inflammatory responses. Probiotics are a kind of cultured good bacteria that can help you to maintain your energy levels, regulate your digestive tract, and improve your quality of life, even in small amounts.
Side Effects of Apple Cider Vinegar
Although apple cider vinegar promotes a large variety of health benefits, there are a few associated risks, specifically with daily consumption. These risks revolve primarily around the acetic nature of apple cider vinegar and suggest alternative methods of delivery and vigilance in incorporating it into your health and wellness routine.
Tooth Erosion and Esophageal Injury
One risk of consuming apple cider vinegar is tooth erosion due to it being very acidic and potential for esophageal injury. One recommendation to mitigate these negative effects is to drink the apple cider vinegar through a straw, dilute it in water, and follow consumption with a glass of water to wash down as much of the acetic acid as possible.
Delayed Stomach Emptying
Another risk associated with apple cider vinegar is delayed stomach emptying, which can be accompanied by common effects like indigestion, heartburn, bloating, and nausea. In these cases, reducing intake to only in the mornings or alternative days may provide relief from these symptoms while maintaining some benefits of apple cider vinegar.
Hypokalemia
Hypokalemia is when potassium levels fall too low, which can also lead to bone loss. Researchers believe this to be an effect of the body's electrolyte balance being disrupted, as well as a disturbance in the acid-base balance in the body from large amounts of apple cider vinegar over time.
Drug Interactions
Finally, vigilance and consultation with your health provider can let you know if apple cider vinegar is a good choice for you if you are taking certain medications with which there may be an undesired reaction, as should be the course of action with any introduction of a natural remedy with a preexisting health regimen.
For Your Health & Wellness
Apple cider vinegar has become a popular natural remedy hailed by health and wellness advocates and practitioners for years. Beyond the media hype claiming benefits in killing cancer cells among other unrealistic uses, apple cider vinegar has many beneficial uses when used properly and in moderation to aid the body in improving weight loss ventures, lowering cholesterol, managing blood sugar, reducing the risk of heart attacks, promoting healthy hair, and being a source of probiotics. Incorporating apple cider vinegar can be a positive addition to your wellness routine after consultation with your health practitioner to ensure that it is right for your current health routine and lifestyle!
Citations:
1 https://www.webmd.com/diet/apple-cider-vinegar-and-your-health#1
2 https://www.singlecare.com/blog/apple-cider-vinegar/