Oxidation is Involved in Aging and Many Disease Processes
Oxidation is the chemical term used to describe the transfer of an electron from one substance to another. We are familiar with the process of oxidation because we have all seen metals rust. Rusting is oxidation. Our cells are the basic units from which all of our tissues and organs are made. The inner working of the cell involves the chemical process of electron transfer. This is an important process for many cellular reactions, occurring in a controlled fashion to create cellular energy for instance. When oxidation occurs outside of a controlled fashion, it can cause damage to the inner working of the cell leading to dysfunction or death.
The Role of Antioxidants to Oppose Oxidation
Our bodies are designed to oppose this process of oxidation by using substances called antioxidants. A healthy body has systems to control and neutralize the process of oxidation. This involves the use of substances (called antioxidants) that can grab onto the "loose" electron (which causes the "rusting") and neutralize it in a safe way. Glutathione is one powerful antioxidant substance that our body makes to help with this process. Many nutrients and plant substances have antioxidant properties or help to support our body's ability to create its own antioxidants. Some of these substances include plant fleen tea, noni, juice, mangosteen, resveratrol, querecetin, chorella, barley, and spirulina.
Antioxidant-Rich Foods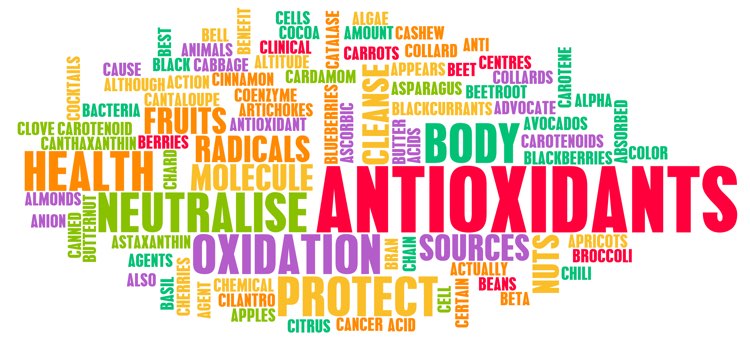 So, who really eats the recommended 5-9 servings per day of fruits and vegetables? Um... That's a great idea but it likely doesn't happen as often as it should, especially with how busy most of us are. But if we did, here's some food options to choose from that are nutritious, easy to prepare, and have excellent antioxidant properties.
Food Options High in Antioxidant Properties

Food
Description
There are lots of other healthy food options that are rich in antioxidant properties. These are provided as a representative sample that cover a broad taste palette.

Beans

Lots to choose from. Being from the South we love our Kidney Beans. Problem is we bury them into rich and creamy sauces that may not be so good for us... Black-eyed peas, lentils, and soy beans are other good options. These provide Vitamin C, Calcium, Folate, Selenium and Zinc. Here's a few healthier recipes using beans that offer some variety and spice.

Blueberries

Blueberries taste great, are very nutritious, and are readily available at most groceries that carry fresh produce. Key nutrients include Fiber, Vitamin C, Vitamin K, and Manganese. They are about 80% water which is great for keeping yourself hydrated.

Dark Green Vegetables

What's all the fuss about Kale, Spinach and Broccoli? These veggies contain lots of Vitamin A, Vitamin C, Vitamin E, Calcium, Magnesium and Potassium. There also known to be helpful in preventing cancer. If you don't like the taste, consider using them in a green smoothie.

Fish

Certain fish are full of omega-3 fatty acids known to fight inflammation as well as promote better cardiovascular health. There are many to choose from including albacore tuna, mackerel, oysters, rainbow trout, salmon, and others. However, fried fish is not the best idea. Keep it fresh and baked or grilled. Fish also have a lot of Vitamin D, which almost everyone is low on. If you just don't like fish, we can't recommend disguising it in a smoothie like the dark green veggies, unless of course you are planning to use a chum smoothie to catch a larger fish like a shark! In that case it's ok. Otherwise, here is a great-tasting and healthy marinade recipe you can try to flavor your fish of choice.

Tea

Yes tea. Lose the sugar though. Tea also helps fight inflammation, which is known to be the primary cause of disease. Some healthy teas include Black, Green, Oolong, and others. Try substituting a tea for a less healthier beverage on occasion, such as a sugary drink, and see how you feel.
That's All Great But I Simply Do Not Have Time To Eat Like I Should
Yep. Happens to a lot of us. The day starts off with some unexpected emergency and we're off to the races without much thought about nutrition. Maybe just a cup of Joe right? Here's where NuMedica can help. These powdered drink mixes make excellent meal-replacements and snacks that taste great, are super easy to make, and you can carry them out the door while you are running to the car in the morning. They are also easy to carry with you for a snack during the day or a light but healthy lunch!
NuMedica Power Greens and Power Reds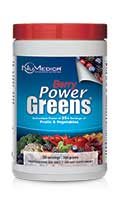 NuMedica Power Greens is a delicious nutritional powder-drink mix that is rich in certified organic plant extracts. Brimming with a healthy blend of natural vitamins, minerals, and antioxidants, this gut-health supplement is designed to support the body's immune system, promote better digestion, and provide natural cleansing properties with its more than 50 super foods. It is a natural energy booster and probiotic that contains no gluten, dairy, preservatives or MSG.
Power Greens comes in multiple flavors including Berry, Chocolate, Espresso, Mint, and Strawberry-Kiwi. The canister form has 30-servings whereby you add 1 scoop of powder to eight ounces of chilled water. Power Greens also comes in single-serving plastic bottles where you simply break the seal, add the chilled water, and shake. Perfect for taking with you in the car or for overnight travel. No excuse not to have a healthy beverage snack anymore!
NuMedica Total Vegan Protein
NuMedica Total Vegan Protein is a delicious blend of five plant proteins: pea, rice, hemp, chia, and cranberry. These hypoallergenic, vegan proteins are combined with healthful ingredients designed to support bone health and the immune system and can even enhance the digestive tract by improving the detoxification process.
This vegan-friendly blend comes in flavors such as chocolate, mocha, and vanilla. Choose from singles, 6-pack or 14-serving containers.
For a REALLY POWERFUL meal-replacement shake combine your favorite Total Vegan Protein with your Favorite Power Greens and get a super dose of both high-quality protein and 50 superfoods in a single, convenient, great-tasting shake you can make in seconds and carry with you wherever you need to be. HINT: Total Vegan Chocolate + Power Greens Mint or Total Vegan Vanilla + Power Greens Berry are very popular. Now there is really no excuse for not eating better! Try this a few times a week and see how you feel! You'll may also be more awake and feel energetic after lunch instead of crashing during the early afternoon.