This is the
third post of a multi-part blog series
for people spending more time at home due to the COVID-19 pandemic, or for any other reason, called
A Stay at Home Wellness Guide
. The series provide tips and common sense for how to live a happier and healthier life addressing how we eat, exercise, work, shop, enjoy entertainment, further our education, and worship just to name a few important things. While the inspiration came from the COVID-19 pandemic, the ideas presented are applicable for healthy living regardless of current circumstances.
Are you nervous about having to make the switch from office employee to remote worker?
Working from home has been growing in popularity for years. Quarantine orders made it a reality for most businesses and workers but experts agree it will likely remain in place long after the virus clears up. There are even advantages to employers and employees in terms of productivity, cost-savings, and convenience in the right situations.
Employee wellness is a major concern when it comes to being an at-home worker. It's easy to feel depressed or get sick because you aren't taking care of yourself.
We've compiled his wellness guide to help prepare you for work at home. Keep reading below for some tips on how to set up a home office, schedule your time, stay active, eat right, and take care of your mental health.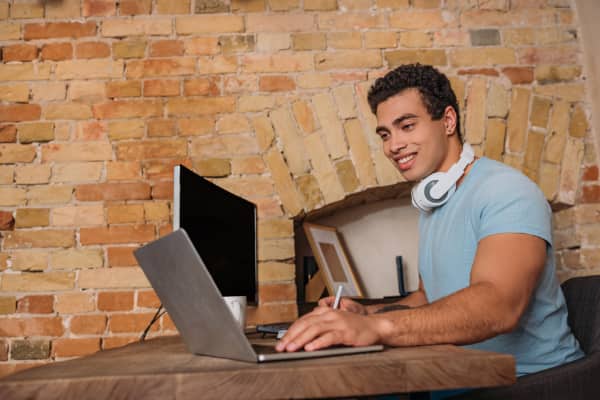 Working From Home? Maintain Your Daily Routine
As human beings, we're hardwired for routine. It's safe, predictable, and allows us to be as efficient as possible. When doing your job at home, your routine is everything.
Keep getting up early in the morning even though you don't have to drive to work or need to report for duty at a certain time. Schedule out your entire day in working blocks to ensure you get everything done. You should also set regular working hours so you don't overdo it.
Taking scheduled breaks can help you throughout the day. Consider leaving the house at least once a day for a change of scenery. Staying social is also very important. Connect with friends or family when you're not working to avoid feeling lonely.
Once you're done for the day, leave your workspace and don't return to it until the next day. Think of this imaginary distance as your daily commute. You need to disconnect from work like you would've done before going remote.
Create a Designated Workspace in Your Home
This is the most important piece of advice we can give. You need to create a separate workspace in your home. Don't try working from your bed or the couch. These are places for relaxation and could affect your motivation and energy levels.
Instead, identify a quiet spot in your home that's large enough for you to work and ideally has a door. Consider if you'll have clients or customers visiting you over the course of a day. This could change where you have it.
Set up your desk near a window and add some plants or personal photos to make things more intimate. Some people even use a standing desk or order an ergonomic chair. The key here is to keep your neck and back supported while working for long stretches of time.
Where you choose to work depends on your needs. It could be a spare room, kitchen, dining room, or a converted garage. Make sure you have high-speed internet, appropriate technology, and all of the equipment needed to do your job.
Schedule Time To Stay Active
Exercising is more difficult when you work from home but it's necessary. Your health should be a top priority and staying active is good for your body and mind. 
One of the best things you can do is schedule a block of time for regular exercise. This could include jogging outside, bike riding, or getting creative with home workouts.
If you're really busy, set an alarm to get up and walk around your house every half hour. You can also do workouts that include jumping jacks, dancing, stretching, or lifting jugs of milk around your house.
You can even get a good workout by cleaning your house or doing some yard work.
There is evidence that sitting for long periods of time can increase your risk of obesity, diabetes, cardiovascular disease, deep-vein thrombosis, and metabolic syndrome.
Eat Well at Home for a Healthy Lifestyle
Just as important as staying active, you need to fuel your body with good quality food. It's so easy to eat junk food out of your pantry when you're on deadline, but you must resist the urge. Poor nutrition will make you tired and susceptible to colds.
Limit the amount of takeout you order because it's far less healthy than dishes you can make at home.
Here are some tips on eating right when you work from home:
Eat a variety of foods to avoid boredom and intolerances
Cook more of your food at home so you can control the ingredients
Plan your meals to save money and stay organized throughout the week
Try out new healthy recipes to keep things fresh
Only buy healthy snacks at the store
You don't want to decrease your immunity or work productivity by eating the wrong kinds of food.
There are a lot of healthy food suggestions or delicious recipes that you can find online and easily make.
Manage Your Mental Health When Working Remotely
It's easy to forget about managing your mental health. But, it's very important to take care of yourself.
Most mental health strategies mirror what has already been suggested: create a dedicated workspace, keep routines, take breaks, and stay connected with other people.
When home you should take advantage of digital communication tools to collaborate with colleagues or check in with each other to make sure everyone is feeling good.
Staying physically active is good for mental health.
Getting away from the computer and doing something you enjoy is another way to stay healthy. And it's probably a good idea not to spend too much time on social media.
Make the Most of Remote Work
Hopefully this has been helpful in providing you with some ideas to stay physically and mentally healthy while working from home.
Most importantly, stay on a routine, eat right, and exercise.