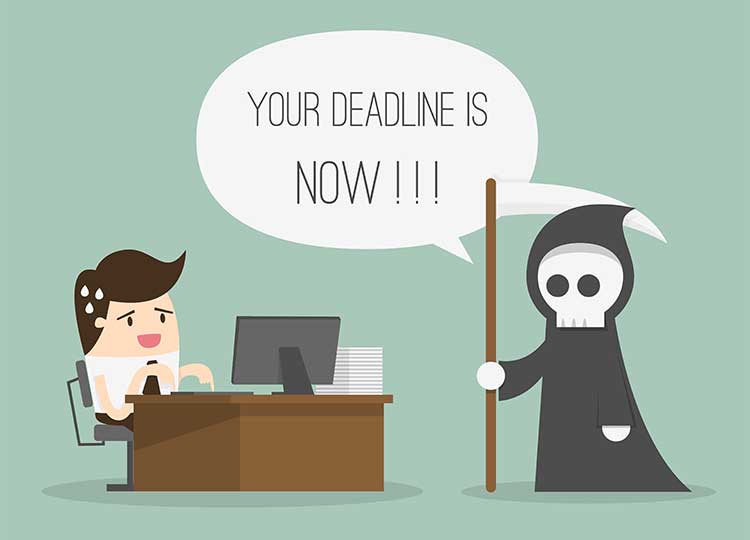 Deadlines, and other stressors, can derail your diet!
You've felt it before, haven't you? The clock ticking, the deadline coming... Work, school, or home demands can often cause so much stress, it's literally impossible to lose an ounce on your diet.
Reason #3 For Diet Failure: Stress
My husband has found in his clinical practice that stress is a huge factor in weight retention. People on a medical weight loss 500 calorie diet can not lose an ounce for a week or more if they are extremely stressed.
I've been working on a deadline for a new website we're developing, and as the launch date draws near, my stress levels increase. I've spent many hours days, evenings, and weekends researching, writing copy, and working on search engine optimization before the launch, and it's stressful.
Our bodies hold onto water weight as well as fat as we stress out. Proper rest and meditation are great stress busters, and taking some time for yourself will calm your mind and body down enough for weight loss to occur.
Many people also turn to food for comfort during times of stress. Is that chocolate almond ice cream beckoning you from the freezer? Are the chips and salsa calling your name? Maybe you need to observe your stress level and adjust your life accordingly. Stress eating, going for our "comfort foods" can quickly derail our diet goals. If you are feeling stress hunger, try drinking a large glass of water. Many times we mistake thirst for hunger, and if we hydrate, the cravings go away within a half an hour.
Here's a great webinar that discusses the physiological affects of how we perceive stress and provides practical tips for managing stress along with supplement recommendations,
Moral of my story these past few days? Often when we are on the diet train, we are fighting other factors as well. So don't give up! Take your supplements, avoid problem foods & chemicals, and take time to relax and recharge every day. Above all, don't let discouragement make you give up. You can have your dreams if you keep your eyes on the prize!