Spinach Chicken Salad
Lunch Dinner Appetizer Snack
Main Dish Salad Side Dish
Dairy Free
I love bringing this healthy salad to parties. For even better health options, try using gluten free bowtie pasta.
I used to love pasta salads and was afraid that when I went gluten free, I would have to give them up forever. Not so with this salad that is robust enough to be a main dish, but light enough to work as a side.
Serves: 6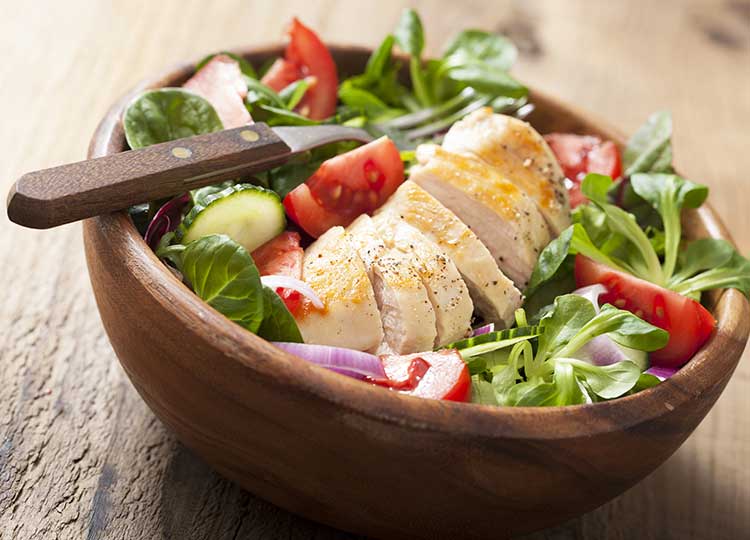 Ingredients
---
12 ounces cooked bow tie pasta

12 ounces baby spinach

3 ounces feta cheese- goat cheese

1/2 red onion minced

1/2 cup kalmata olives sliced thin

1/2 cucumber peeled and diced

2 tablespoons lemon juice

1 clove garlic minced

1 teaspoon sea salt

1/2 cup extra virgin olive oil
Directions
---
Boil pasta according to directions, and cool. Tossed all ingredients in a bowl. Add or subtract olive oil as desired. To add variety, top with 1/2 cup sliced strawberries.

 Discussion Forum Help
---
Comments are displayed in order of the last one posted so the most recent Comment is at the top and older Comments are towards the bottom. Replies within a Comment are displayed in reverse order with the oldest Reply at the top and the most recent one at the bottom.
Each post identifies who made the post and the date and time the post was made.
Mouse over the icons for tooltips that explain what the data means.
If you see this icon you can attach an Audio file to your post.
If you see this icon you can attach a Document file to your post.
If you see this icon you can attach an Image file to your post.
If you see this icon you can attach a Video file to your post.
You will see the Ban icon (Report Post as SPAM) immediately following the Timestamp of the post. Click this icon if you feel strongly that the content posted is not appropriate and should be reviewed by the Forum Moderator. You will be provided with a confirmation dialog to be sure you wish to submit this post for review. If submitted, the Forum Moderator will be notified to review the post and will determine what type of action to take.
Click in the upper right corner of this Help modal or anywhere on the web page outside of the modal to exit Help.
×