Pumpkin Pie Smoothie
Breakfast Snack
Drink
Raw Vegetarian
Don't miss out on your favorite flavor of the fall. This simple and spicy smoothie will gratify your desire for an awesome pumpkin pie spice, without all of the empty calories!
We love pumpkin in pie, but in a smoothie? Absolutely This is like drinking pumpkin pie, except that you'll enjoy all the vitamins and minerals without all the sugar and gluten that a slice of pie contains.
Serves: 2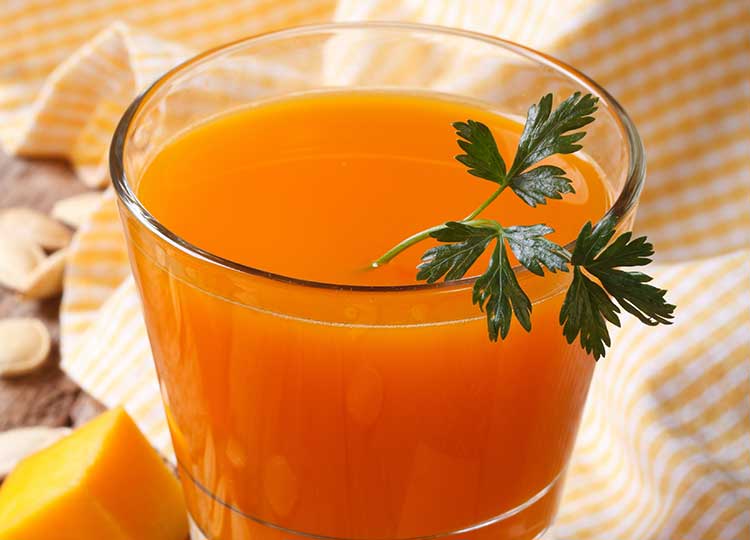 Ingredients
---
1/2 cup canned pumpkin (or fresh cooked, cooled, & pureed pumpkin)

3/4 cup low fat milk

1 banana

1/4 teaspoon cinnamon

1/8 teaspoon nutmeg

1 1/2 teaspoons raw honey

1 teaspoon vanilla extract

6 ice cubes
Directions
---
Mix all ingredients in a blender until creamy and smooth. Garnish with whipped cream and freshly grated nutmeg.
TIP: This recipe makes a great frozen dessert too Just pour into a popsicle mold (or a plastic cup with a spoon doubling for a popsicle stick) and freeze to enjoy later.

 Discussion Forum Help
---
Comments are displayed in order of the last one posted so the most recent Comment is at the top and older Comments are towards the bottom. Replies within a Comment are displayed in reverse order with the oldest Reply at the top and the most recent one at the bottom.
Each post identifies who made the post and the date and time the post was made.
Mouse over the icons for tooltips that explain what the data means.
If you see this icon you can attach an Audio file to your post.
If you see this icon you can attach a Document file to your post.
If you see this icon you can attach an Image file to your post.
If you see this icon you can attach a Video file to your post.
You will see the Ban icon (Report Post as SPAM) immediately following the Timestamp of the post. Click this icon if you feel strongly that the content posted is not appropriate and should be reviewed by the Forum Moderator. You will be provided with a confirmation dialog to be sure you wish to submit this post for review. If submitted, the Forum Moderator will be notified to review the post and will determine what type of action to take.
Click in the upper right corner of this Help modal or anywhere on the web page outside of the modal to exit Help.
×