We all benefit from human connection. As more of us spend time at home and behind our screens, the more disconnected and alone we can feel. More than 3 in 5 Americans report being lonely, with a 13% increase in loneliness in the last three years.
Are you new in your town and want to connect with like-minded people? Have you been couped up in your home because of the pandemic or for some other reason? Do you want to try a new hobby or activity that doesn't involve sitting behind your computer or tv?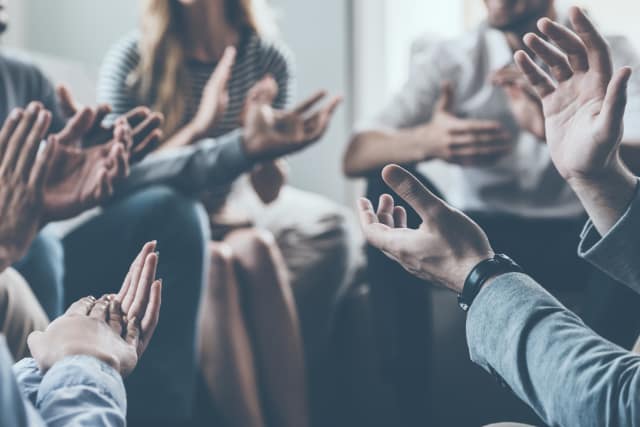 Check Out Your Local Cafe
Local cafes are community hubs and often host events in the evenings. If they don't host events themselves, they will more than likely know about what is going on in the neighborhood.
Often cafes have a notice board where local groups can post events or details of their clubs. Check these boards to see what is happening and when.
Local cafes are also a fantastic place to buy local produce prepared in a much healthier way than many chain restaurants. Eating healthy can be challenging, and if you befriend people you know can provide you a healthy meal when you need it, you are one step closer to a healthier lifestyle.
Join Your Local Gym
Another hub for community activity is the local gym. You can join the gym to meet like-minded people who also want to stay healthy and fit.
Going to the gym alone can be a little daunting; you aren't just going to start randomly chatting to someone in the middle of a workout. But try joining classes. The group setting gives more of a community feel and opportunity to talk at the end of the class.
Gyms will often organize events such as running events or hikes in the local area. Follow your gym on social media so you can keep up to date with the events they organize.
Shop Local 
If you shop at local businesses, try to get to know the owners and the people who work there. They are often a lot more involved in the community than big chain shops and their employees.
When the people at your local shops get to know you, you can ask them about events in the community. You may even be able to advertise your own events in their shop.
Join a Sports Club
If the gym isn't your thing, then why not try a sports club instead? Most towns will have at least one sports club. Whether it's soccer or baseball, or tennis, there will be something for you to get involved with.
Local sports clubs often have options for different ages and abilities too. Don't get put off by thinking it will be competitive. Many people join sports clubs to socialize and have some fun. 
It's not always about competition!
Check Facebook Groups For Local Events
This tool can be handy to find people who have the same interests as you who live in your area.
Start with a simple search. For example, 'yoga in xxx' and see what comes up. If you have your location saved on Facebook, it will automatically recommend local groups to you.
There are Facebook groups for every hobby imaginable. However you enjoy spending your spare time, you will likely find others on Facebook in your area.
Facebook is also handy to look for specific events. Many local venues will post events on Facebook. Whether that's a live music event or a trivia night or a book review, keep an eye on Facebook to see what is happening.
Find Social Activities With Meetup Groups
Another great way to find local community groups is by using the website Meetup.com.
You make a profile, add your location, and then have access to all the events happening in your area. This isn't just for sports, but every leisure activity imaginable.
Want to join a book club or a knitting circle or perhaps a cooking club? Chances are you will find a group in your area on Meetup.
Don't see what you're looking for on the website? Then create your group. It's a great way to find people interested in your hobbies in your local area.
Local Newspapers and Websites
If you don't have access to the internet, use local newspapers to see what is happening in your local community. Newspapers often have an events column or section and will give you the low down on upcoming gatherings.
Many newspapers also have an online version where you can check current opportunities. Clubs and local organizations may list adverts or sponsor pieces on these sites.
If you want to check online for community activities, conduct a basic search. Ask the search engine what is currently happening or what activities are available in your area. The list of answers is sure to inspire you.
Befriend Your Neighbors
Perhaps an obvious suggestion, but your neighbors are the ones in the know about local events and gatherings in the neighborhood.
If you move somewhere new, introduce yourself to your neighbors and get to know them a little.
Knowing how to meet new people can be a challenge, so get talking to those in your immediate surroundings. It may feel awkward or uncomfortable at first. But, if you push yourself out of your comfort zone, the reward will be even greater.
Airbnb Experiences
One that you may not expect to see on the list is Airbnb. However, the concept of Airbnb experiences is that local people offer their knowledge about the area. This may be through a food tour, a street art tour, or a history tour.
If you want to find a way to learn about the local area while connecting with local people, then this is a great option.
These experiences tend to be a one-time thing, not a weekly activity. You will need to make an effort to befriend your guide. Your guide will be an invaluable member of your network, someone who can give you great tips about places to go and things to do.
Join a Club
Living a healthier lifestyle can always be a social affair. In fact, it makes it even more fun. So you may not be into team sports but what about cycling, swimming or running?
If you can find a local club that meets regularly to take part in the activities you love, it can be a great way to meet new people and connect with the local community.
Join Your Local Library
The library is another excellent place to get involved with the local community. Whether you love reading or not, it is a fantastic way for you to meet people. Libraries often host local events such as readings, fundraisers, and activities for children.
Ofter seen as the hub of a vibrant community, a library is another place you can find out about what is happening in your area.
Give Back Your Time As A Volunteer
Many projects and organizations don't have the resources to hire a team of full-time staff. They recruit volunteers to help them out with events and activities.
It could be helping out at a museum, doing research for a local charity, or assisting with a local event. Whatever you choose to do, volunteering is a great way to give back to your community, as well as meet new people.
Find Some Local Activities
Now you have plenty of ideas about how to find social activities in your community.
Take it easy, and don't put pressure on yourself to do too many things at once. Don't expect the first event you attend or activity you join to be the best thing ever.
These things take time and effort. It will take some trial and error before finding a club or society or activity you enjoy and people you want to do it with. 
Try different things that interest you and be patient. If you make an effort to do something you love and socialize with the people you meet, you will have a new circle of friends in no time. 
Living a healthy lifestyle is much more enjoyable when we have people around us who also have the same goals and intentions. You can help and support one another by taking the steps to a healthier, happier you.
Need more tips on building sustainable and healthy habits? Why not try out our online wellness education program?