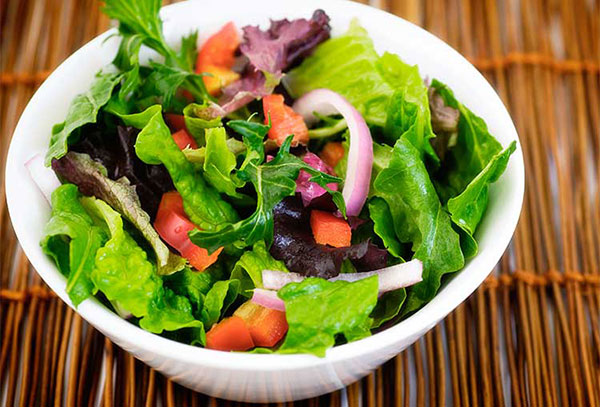 Leftover Greens Salad is quick, nutritious and healthy.
Getting started on the hc3 Trim Program is simple if you make a defined plan. The whole hc3 Trim Kit comes with a handy little booklet that discusses exactly what should and shouldn't be eaten, as well as a menu for your whole diet. This completely takes the guessing out. The thing is, many people want to get "creative" on diets. This is one place where you want to STICK TO THE PLAN!
First, eat only fresh fruits and veggies in the booklet. These are the only fruits and veggies in small amounts you should eat! Example, grapefruit, strawberries, apples, oranges, asparagus, tomato, cabbage, lettuce, and many others. ALWAYS FRESH, ALWAYS IN THE PROPER AMOUNTS!!
Second, only eat fresh, non-processed meats. No Turkey Loaf, or SPAM (I know you're crying over this one). Just lean, fresh meats that are about the size of your fist uncooked. Many types of fish are good, as well as chicken, beef, and venison.
Third, you can have melba toast or rounds in very small amounts. Otherwise, NOTHING PROCESSED!!!! No sugar free Jello, no pudding, no fat free yogurt, and no "fat-free processed snacks". No Splenda, Nutrisweet, Sweet-n-Low or any other artificial sweeteners!
Fourth, NOTHING MINT!!! This is one of the worst ways to mess up this diet. It's one of the profound mysteries of the universe, and I truly don't know why. Mint will KILL this diet. No mint toothpaste, mouthwash, dental floss, gum, candy, etc... Don't do it! If you happen to know why mint is a hc3 trim killer, I'd love to know. This is just what I've heard over and over again from the manufacturers.
Fifth, and probably most importantly, nothing to drink but good ole h20!! Do not drink diet sodas! One cup of coffee (black) or some green tea is allowed if you must, but water is what will flush out your system the best, so drink up.