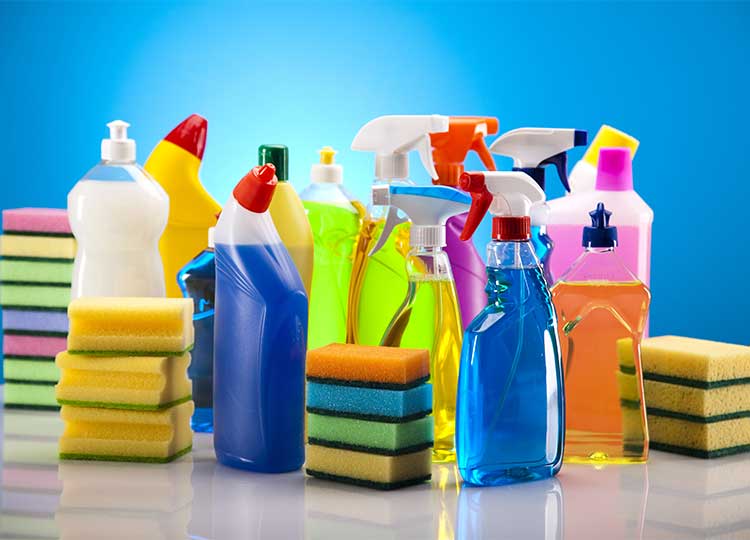 Chemical cleaners do not have to list all ingredients anywhere on their products.
The terms Green and Natural are not regulated like "Organic" is in the grocery store. "Green" or "Natural" could refer to the color of the cleaner or the recycled packaging it's in, and have nothing to do with the actual composition of the cleaning agents, so be sure to do your homework on what is in the products. You want to be sure products are all natural/green on the inside!
I want to leave you with some general principles to keep in mind as you purchase cleaning supplies: What you probably don't know, (and, in my opinion, the scariest part) is that no regulating agency requires commercial cleaning product companies (such as Johnson and Johnson, Lysol, etc...) to list all the chemicals in their products. So even if you don't see those chemicals listed, they could be there!
Watch out for Eco-Friendly/ Environmentally Friendly products as well. This may simply mean that they use post-consumer recycled packaging materials, and have nothing to do with what's in the bottle of cleaner. Real Eco-Friendly products are safe for all waterways and septic systems.
I'm not the only one saying this by a long shot! Here's a quote from a yahoo news blog that caught my attention today entitled, "8 known carcinogens to remove from your house," by Melissa Breyer that further illustrates the dangers of chemical cleaners:
Cleaning products: Not all cleaning products contain carcinogens, but here are the worst offenders.
Mold and mildew cleaners can be a nasty bunch, often containing formaldehyde. Try a natural approach to killing mold and mildew by usingvinegar and tea tree oil.
Carpet and upholstery cleaners are designed to strip stains and dirt from heavy textiles by using noxious substances. The worst of the ingredients is perchloroethylene, a central nervous system toxicant and respiratory irritant.
Instead, try using a steam cleaner with water or a natural-based cleaner. Next time you're shopping for furniture, aim for styles that use slipcovers that can be removed and washed or water-process dry-cleaned.
Furniture polishes achieve a shine with nitrobenzene, a reproductive toxin and central nervous system toxin that can be absorbed through the skin. Look for an all-natural polish... So choose your cleaners wisely!