Summer Salad with Dressing and Feta
Lunch Appetizer
Salad Salad Dressing Side Dish
Raw Vegetarian Dairy Free
This summer salad, packed with feel-good ingredients and tons of flavor, will be the hit dish among your family and friends this spring and summer! With little preparation time, it's an easy staple recipe for the coming months.
Serves: 6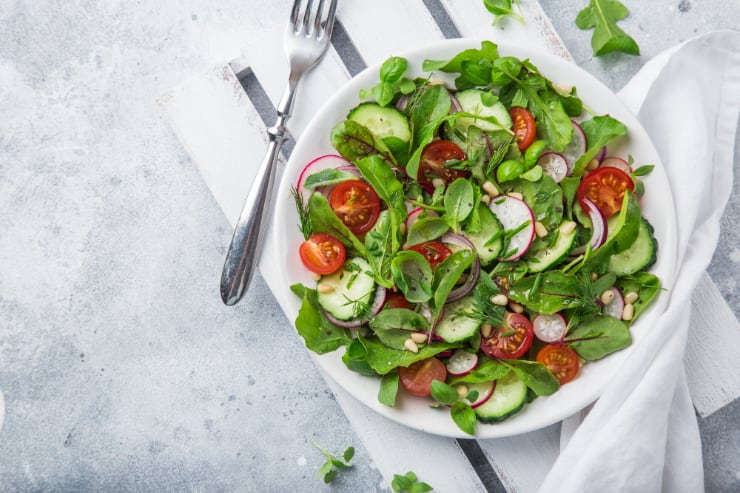 Ingredients
---
Salad
400 g black beans, drained
2 generous handfuls baby spinach, chopped roughly
500 g heritage tomatoes, chopped into large chunks
Half a cucumber, halved lengthways, seeds removed
1 mango, peeled and chopped into chunks
1 large red onion, halved and finely sliced
6-8 radishes, sliced
2 avocados, peeled and sliced
100 g crumbled feta
Dressing
large bunch mint
small bunch coriander
small bunch basil
1 fat green chili, deseeded and chopped
1 small garlic clove
100 ml extra virgin olive oil
2 limes, zested and juiced
2 tbsp white wine vinegar
2 tsp honey
Directions
---
Blend all dressing ingredients in a food processor. This can be done up to 24 hours before serving.
Scatter the baby spinach and beans first on a large serving platter. Then arrange the remaining ingredients (tomatoes, cucumber, mango, onion, and radishes) on top. Directly before serving, top the salad with avocados, feta, any remaining herbs, and your homemade dressing.

 Discussion Forum Help
---
Comments are displayed in order of the last one posted so the most recent Comment is at the top and older Comments are towards the bottom. Replies within a Comment are displayed in reverse order with the oldest Reply at the top and the most recent one at the bottom.
Each post identifies who made the post and the date and time the post was made.
Mouse over the icons for tooltips that explain what the data means.
If you see this icon you can attach an Audio file to your post.
If you see this icon you can attach a Document file to your post.
If you see this icon you can attach an Image file to your post.
If you see this icon you can attach a Video file to your post.
You will see the Ban icon (Report Post as SPAM) immediately following the Timestamp of the post. Click this icon if you feel strongly that the content posted is not appropriate and should be reviewed by the Forum Moderator. You will be provided with a confirmation dialog to be sure you wish to submit this post for review. If submitted, the Forum Moderator will be notified to review the post and will determine what type of action to take.
Click in the upper right corner of this Help modal or anywhere on the web page outside of the modal to exit Help.
×