Summer Gazpacho
Lunch Dinner
Main Dish Soup
Raw Vegetarian
This Summer Gazpacho is a quick and nutritious soup for the warmer seasons. Featuring many flavorful veggies and served at a cool temperature, it's sure to help you bring down that summer heat and leave you feeling satisfied!
Serves: 6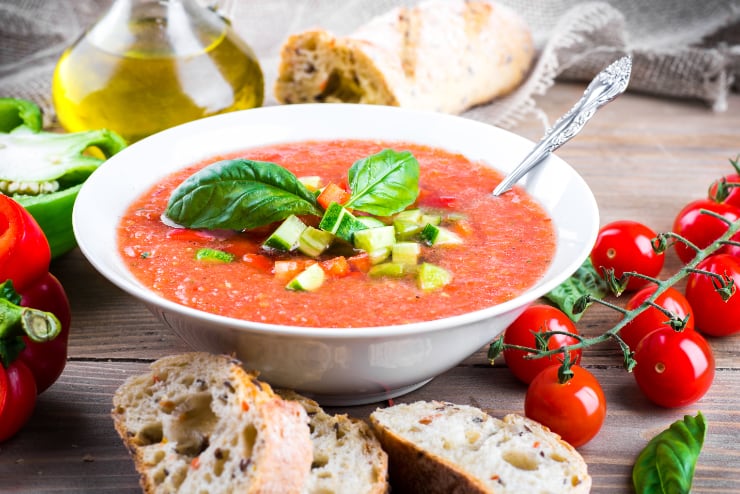 Ingredients
---
3 pounds very ripe heirloom or regular tomatoes, roughly chopped
1 red bell pepper, roughly chopped
½ green bell pepper, roughly chopped
½ cup (80 g) roughly chopped red onion
2 cloves of garlic
1 cup sliced cucumber
2 tablespoons sherry vinegar or red wine vinegar
½ (120 ml) cup good tasting olive oil
2 ½ teaspoons kosher salt (or to taste)
Black pepper, to taste
Directions
---
Wash and chop all vegetables and blend in a blender. Depending on the volume of your blender, you may need to blend in two batches. Blend until completely smooth.
When smooth and more room available in the blender, add in the sherry vinegar, olive oil, salt, and pepper. Blend again until emulsified.
Chill in a refrigerator until ready to be served.

 Discussion Forum Help
---
Comments are displayed in order of the last one posted so the most recent Comment is at the top and older Comments are towards the bottom. Replies within a Comment are displayed in reverse order with the oldest Reply at the top and the most recent one at the bottom.
Each post identifies who made the post and the date and time the post was made.
Mouse over the icons for tooltips that explain what the data means.
If you see this icon you can attach an Audio file to your post.
If you see this icon you can attach a Document file to your post.
If you see this icon you can attach an Image file to your post.
If you see this icon you can attach a Video file to your post.
You will see the Ban icon (Report Post as SPAM) immediately following the Timestamp of the post. Click this icon if you feel strongly that the content posted is not appropriate and should be reviewed by the Forum Moderator. You will be provided with a confirmation dialog to be sure you wish to submit this post for review. If submitted, the Forum Moderator will be notified to review the post and will determine what type of action to take.
Click in the upper right corner of this Help modal or anywhere on the web page outside of the modal to exit Help.
×