Spinach Mushroom Quiche
Breakfast Appetizer Snack
Main Dish Side Dish
Vegetarian Dairy Free
This Spinach Mushroom Quiche is a breakfast favorite in our home! It's filling, nutritious, and tasty with delicious wild mushrooms, veggies, and just a little cheese to keep you coming back for more.
Serves: 6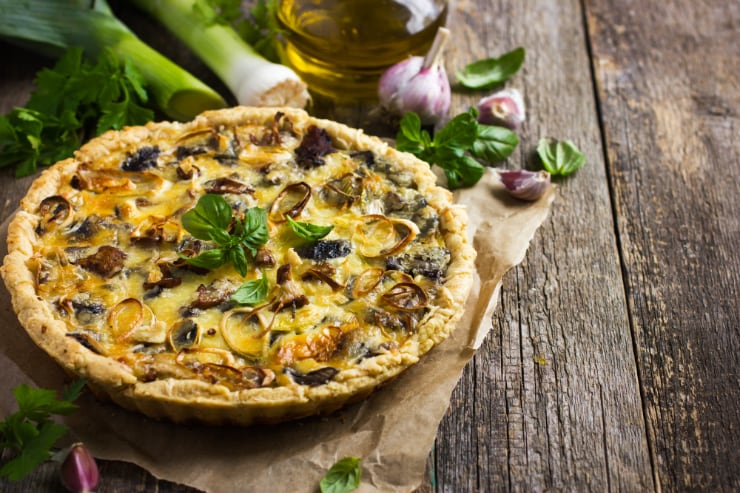 Ingredients
---
2 tablespoons extra-virgin olive oil
230 g sliced fresh mixed wild mushrooms (recommended: cremini, shiitake, button, and/or oyster mushrooms)
80 g thinly sliced sweet onion
1 tablespoon thinly sliced garlic
240 g fresh baby spinach, coarsely chopped
6 large eggs
60 ml whole milk
60 ml half-and-half
1 tablespoon Dijon mustard
1 tablespoon fresh thyme leaves, plus more for garnish
¼ teaspoon salt
¼ teaspoon ground pepper
1 ½ cups shredded Gruyère cheese
Directions
---
Preheat oven to 345° F, and coat a 9 inch pie pan with olive oil.
Over medium-high heat, cook mushrooms (approx. 8 minutes). Add onion and garlic (approx. 5 minutes). Add spinach (approx. 2 minutes). Stir often with each step.
Whisk eggs, milk, half-and-half, thyme, salt, and pepper in a bowl. Fold in the mushroom mixture and cheese. Add to the prepared cooking pan and bake until golden brown (approx. 30 minutes). Let sit for 10 minutes after baking, garnish with thyme, and serve.

 Discussion Forum Help
---
Comments are displayed in order of the last one posted so the most recent Comment is at the top and older Comments are towards the bottom. Replies within a Comment are displayed in reverse order with the oldest Reply at the top and the most recent one at the bottom.
Each post identifies who made the post and the date and time the post was made.
Mouse over the icons for tooltips that explain what the data means.
If you see this icon you can attach an Audio file to your post.
If you see this icon you can attach a Document file to your post.
If you see this icon you can attach an Image file to your post.
If you see this icon you can attach a Video file to your post.
You will see the Ban icon (Report Post as SPAM) immediately following the Timestamp of the post. Click this icon if you feel strongly that the content posted is not appropriate and should be reviewed by the Forum Moderator. You will be provided with a confirmation dialog to be sure you wish to submit this post for review. If submitted, the Forum Moderator will be notified to review the post and will determine what type of action to take.
Click in the upper right corner of this Help modal or anywhere on the web page outside of the modal to exit Help.
×