Ketogenic Pizza
Lunch Dinner Appetizer
Main Dish
Dairy Free
A delicious keto-friendly, gluten-free pizza loaded with healthy fats and protein. A perfect comfort food without the guilt to be shared with friends and family.
Serves: 4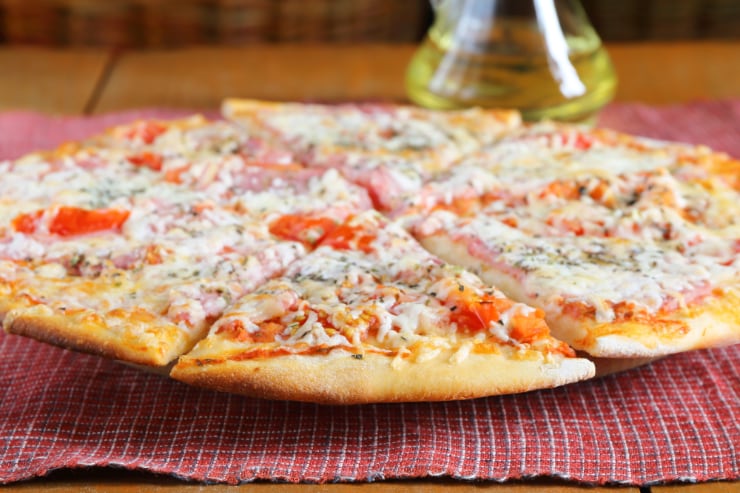 Ingredients
---
1 ½ cups almond flour
2 tbsp coconut flour
1 tsp baking powder
1 egg
2 tbsp olive oil
½ tsp garlic powder
½ tsp dried oregano
½ tsp salt
1 cup shredded mozzarella cheese
?..." cup tomato sauce
4 slices of bacon, cooked and crumbled
½ small red onion, thinly sliced
½ bell pepper, thinly sliced
Fresh basil leaves, chopped
Directions
---
Preheat oven to 425°F.
In a mixing bowl, combine almond flour, coconut flour, baking powder, garlic powder, oregano, and salt.
Add egg and olive oil and mix until a dough forms.
Place dough on a sheet of parchment paper. Use your fingers to flatten the dough into a circle, about ¼ inch thick.
Bake crust for 10-12 minutes or until lightly golden.
Remove crust from oven and spread tomato sauce on top.
Sprinkle mozzarella cheese, bacon, onion, and bell pepper on top of the sauce.
Place back in the oven and bake for an additional 8-10 minutes, or until cheese is melted and bubbly.
Top with fresh basil leaves and serve.

 Discussion Forum Help
---
Comments are displayed in order of the last one posted so the most recent Comment is at the top and older Comments are towards the bottom. Replies within a Comment are displayed in reverse order with the oldest Reply at the top and the most recent one at the bottom.
Each post identifies who made the post and the date and time the post was made.
Mouse over the icons for tooltips that explain what the data means.
If you see this icon you can attach an Audio file to your post.
If you see this icon you can attach a Document file to your post.
If you see this icon you can attach an Image file to your post.
If you see this icon you can attach a Video file to your post.
You will see the Ban icon (Report Post as SPAM) immediately following the Timestamp of the post. Click this icon if you feel strongly that the content posted is not appropriate and should be reviewed by the Forum Moderator. You will be provided with a confirmation dialog to be sure you wish to submit this post for review. If submitted, the Forum Moderator will be notified to review the post and will determine what type of action to take.
Click in the upper right corner of this Help modal or anywhere on the web page outside of the modal to exit Help.
×