Gluten Free Chicken Noodle Soup
Main Dish Soup

This is perfect for anyone who needs a hot broth soup, and is totally gluten free. My kid's favorite soup, and good enough to serve to any unexpected company.
Need a gluten free version of the old classic? Nothing heals the body like a good chicken noodle soup, and this one is even better than the original.
Serves: 6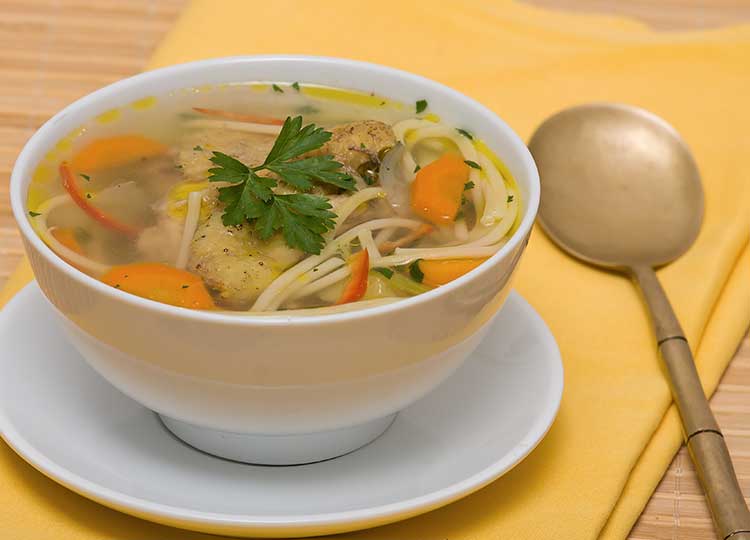 Ingredients
---
1 whole chicken

6-8 cups water

1 pound Organic carrot Sliced with skin on

1 bunch Organic green onion

2 leeks Sliced

1 bunch celery Include leaves

1 teaspoon rosemary

1/2 teaspoon seasoned salt

1 Package rice noodle
Directions
---
Fill a stock pot with water, and add onion, bring to a boil. Boil whole chicken, then bring to a simmer and cook for one hour. Debone chicken and put as much meat back into the broth as you like. Reserve the rest of the meat for later cooking.
Bring broth back to a boil, add other veggies, add rice noodles. Cook according to rice noodle directions. Then serve.

 Discussion Forum Help
---
Comments are displayed in order of the last one posted so the most recent Comment is at the top and older Comments are towards the bottom. Replies within a Comment are displayed in reverse order with the oldest Reply at the top and the most recent one at the bottom.
Each post identifies who made the post and the date and time the post was made.
Mouse over the icons for tooltips that explain what the data means.
If you see this icon you can attach an Audio file to your post.
If you see this icon you can attach a Document file to your post.
If you see this icon you can attach an Image file to your post.
If you see this icon you can attach a Video file to your post.
You will see the Ban icon (Report Post as SPAM) immediately following the Timestamp of the post. Click this icon if you feel strongly that the content posted is not appropriate and should be reviewed by the Forum Moderator. You will be provided with a confirmation dialog to be sure you wish to submit this post for review. If submitted, the Forum Moderator will be notified to review the post and will determine what type of action to take.
Click in the upper right corner of this Help modal or anywhere on the web page outside of the modal to exit Help.
×