Creamy Broccoli Soup
Lunch Dinner
Main Dish Soup
Vegetarian
Raw and Vegan, you'll never go back to the calorie laden old school style soup.
Take the old, cream-ladened broccoli soup and throw it out the window. Enjoy this instead of the calorie filled original.
Serves: 4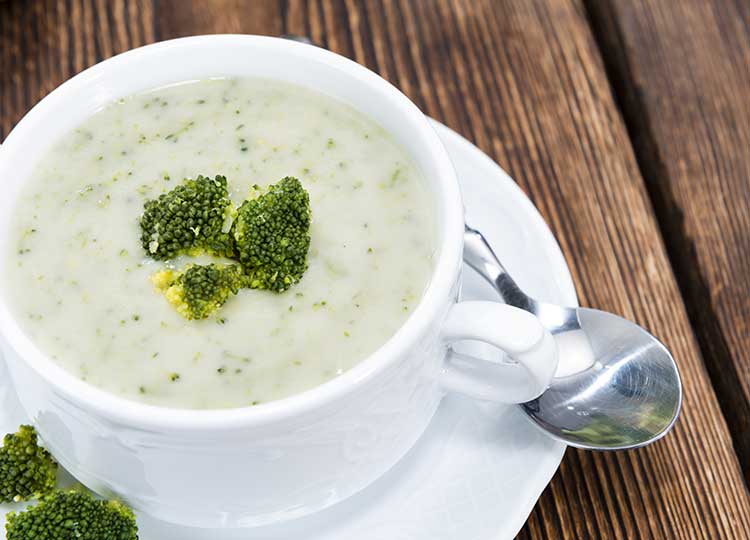 Ingredients
---
1 bunch broccoli

3 cups chopped potatoes
1/2 chopped onion

3 cloves garlic

water
1 can coconut

1/2 cup nutrional yeast
1 tablespoon paprika

1 tablespoon thyme

1 tablespoon sea salt


1 teaspoon pepper
Directions
---
Separate crowns of broccoli from stem. Set crowns aside. Chen stems and put into soup pot with potatoes, onion, and peeled garlic cloves. Cover with water and cook until soft. Put cooked veggies into blender and puree. Return to pot with finely chopped broccoli crowns and add the remaining ingredients. Cook on low until broccoli is tender.
 Discussion Forum Help
---
Comments are displayed in order of the last one posted so the most recent Comment is at the top and older Comments are towards the bottom. Replies within a Comment are displayed in reverse order with the oldest Reply at the top and the most recent one at the bottom.
Each post identifies who made the post and the date and time the post was made.
Mouse over the icons for tooltips that explain what the data means.
If you see this icon you can attach an Audio file to your post.
If you see this icon you can attach a Document file to your post.
If you see this icon you can attach an Image file to your post.
If you see this icon you can attach a Video file to your post.
You will see the Ban icon (Report Post as SPAM) immediately following the Timestamp of the post. Click this icon if you feel strongly that the content posted is not appropriate and should be reviewed by the Forum Moderator. You will be provided with a confirmation dialog to be sure you wish to submit this post for review. If submitted, the Forum Moderator will be notified to review the post and will determine what type of action to take.
Click in the upper right corner of this Help modal or anywhere on the web page outside of the modal to exit Help.
×