Chocolate Banana Bread
Breakfast Snack
Dessert
Vegetarian Gluten Free
This delicious vegan Chocolate Banana Bread is a crowd pleaser in our home! It makes for a wonderful breakfast or snack, with just a little chocolate to give you some sweet satisfaction.
Serves: 10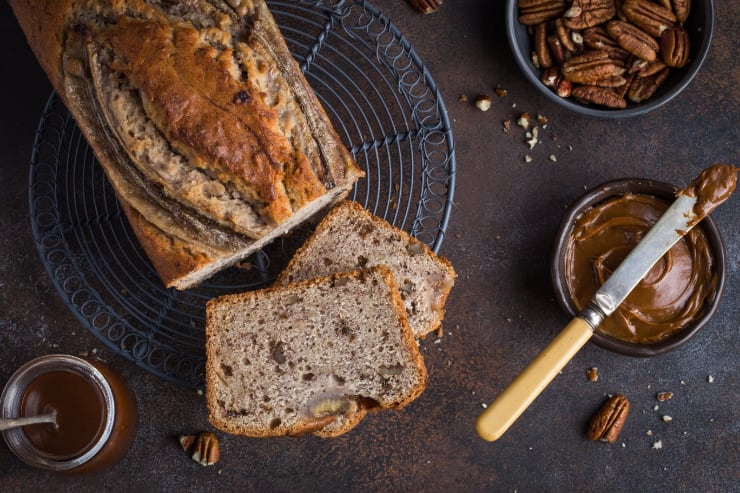 Ingredients
---
Banana Bread
3 ripe bananas (weighed 300 g without skin)
250 ml plant-based milk
90 ml maple syrup
80 ml tahini (sesame butter)
150 g of oat flour
100 g of buckwheat flour
30 g organic cocoa protein powder
30 g coconut blossom sugar
2 teaspoons of baking soda
¼ teaspoon baking soda
¼ tsp salt
splash of vinegar
50 g organic chocolate drops
Chocolate Frosting
60 g chocolate drops
120 g coconut yogurt at room temperature
cocoa powder
Directions
---
Banana Bread
Blend the bananas, plant-based milk, maple syrup, and tahini in a blender.
Mix the dry ingredients and add the banana mixture, forming a dough.
Fold in the chocolate drops and spread the dough in a 20 cm loaf pan.
Bake at 360 degrees for 50 minutes.
Chocolate Frosting
Melt the chocolate chips and let cool slightly.
Mix with the coconut yogurt to a smooth frosting.
Spread on the chocolate banana bread, and dust with cocoa powder.

 Discussion Forum Help
---
Comments are displayed in order of the last one posted so the most recent Comment is at the top and older Comments are towards the bottom. Replies within a Comment are displayed in reverse order with the oldest Reply at the top and the most recent one at the bottom.
Each post identifies who made the post and the date and time the post was made.
Mouse over the icons for tooltips that explain what the data means.
If you see this icon you can attach an Audio file to your post.
If you see this icon you can attach a Document file to your post.
If you see this icon you can attach an Image file to your post.
If you see this icon you can attach a Video file to your post.
You will see the Ban icon (Report Post as SPAM) immediately following the Timestamp of the post. Click this icon if you feel strongly that the content posted is not appropriate and should be reviewed by the Forum Moderator. You will be provided with a confirmation dialog to be sure you wish to submit this post for review. If submitted, the Forum Moderator will be notified to review the post and will determine what type of action to take.
Click in the upper right corner of this Help modal or anywhere on the web page outside of the modal to exit Help.
×