Beet Juice
Breakfast Appetizer
Drink
Raw Vegetarian
Packed with antioxidants and nitrates, beet juice is easy to make and provides numerous health benefits.
Beets are a root vegetable, vibrant in color, rich in folate, and naturally high in nitrates. It has a sharp but sweet earthy taste. The leaves and roots of beets are packed with nutrition, including antioxidants that may help improve blood circulation, fight cell damage and reduce the risk of heart disease.
Serves: 4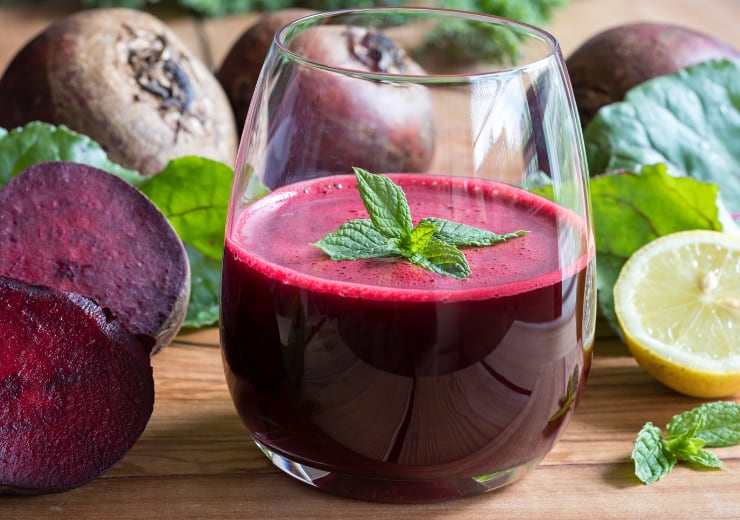 Ingredients
---
1 red beet
1-2 large granny smith apples cored and sliced
1 large lemon peeled and quartered
1 inch ginger peeled
3 medium carrots
Directions
---
Wash and prepare fruits and vegetables.
Mix the ingredients up rather than juice in order listed to provide a better mixture.
Optionally add ice cubes in serving glass
---
Preparing fruits and vegetables may involve peeling off the outer layer of skin, removing stems on the ends, and removing internal cores like in apples. Not all skins needs to be removed as some add some nutrient value, color or taste while other's don't. Cutting larger vegetables into smaller pieces may help the juicing process to be more efficient and clean.
Generally it is best to drink the juice right away while it is fresh to get the maximum nutrient value. Otherwise, you can usually keep in the refrigerator in an airtight container for up to 24 hours.

 Discussion Forum Help
---
Comments are displayed in order of the last one posted so the most recent Comment is at the top and older Comments are towards the bottom. Replies within a Comment are displayed in reverse order with the oldest Reply at the top and the most recent one at the bottom.
Each post identifies who made the post and the date and time the post was made.
Mouse over the icons for tooltips that explain what the data means.
If you see this icon you can attach an Audio file to your post.
If you see this icon you can attach a Document file to your post.
If you see this icon you can attach an Image file to your post.
If you see this icon you can attach a Video file to your post.
You will see the Ban icon (Report Post as SPAM) immediately following the Timestamp of the post. Click this icon if you feel strongly that the content posted is not appropriate and should be reviewed by the Forum Moderator. You will be provided with a confirmation dialog to be sure you wish to submit this post for review. If submitted, the Forum Moderator will be notified to review the post and will determine what type of action to take.
Click in the upper right corner of this Help modal or anywhere on the web page outside of the modal to exit Help.
×