Almost Raw Vegan Nut Cheese
Appetizer Snack
Condiment Side Dish Spread & Sauce
Raw Vegetarian
A great alternative to the traditional cheese ball for those trying to eliminate dairy.
If you want to get cheese out of your life, you've got to try this alternative. Your friends may never know the difference, so don't tell them!
Serves: 6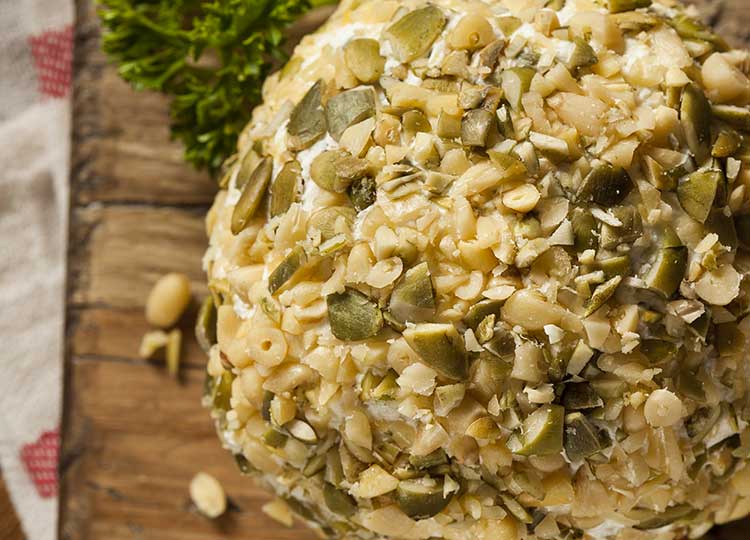 Ingredients
---
1 1/2 cups water

1-2 tablespoon agar powder

1 1/2 cups raw and soaked nuts

2 tablespoons extra virgin olive oil

1-2 juiced lemon

1 tablespoon paprika

2-4 tablespoons nutritional yeast

1 clove fresh garlic

2 teaspoons sea salt
Directions
---
Place all ingredients in blender. Cover with water. Blend until creamy and leave in the blender. Heat water and agar on the stove top in a small pot on medium heat. When mixture starts to boil and bubble, turn it on low and let cook for 3 minutes while stirring constantly. Add the agar and water mixture to the blender mixture and blend well. Pour into containers and chill. This cheese substitute will slice and shred after cooled (about 4 hours). Goes great with crackers and on sandwiches. It can be used right away as a melted sauce for steamed vegetables and whole grains.

 Discussion Forum Help
---
Comments are displayed in order of the last one posted so the most recent Comment is at the top and older Comments are towards the bottom. Replies within a Comment are displayed in reverse order with the oldest Reply at the top and the most recent one at the bottom.
Each post identifies who made the post and the date and time the post was made.
Mouse over the icons for tooltips that explain what the data means.
If you see this icon you can attach an Audio file to your post.
If you see this icon you can attach a Document file to your post.
If you see this icon you can attach an Image file to your post.
If you see this icon you can attach a Video file to your post.
You will see the Ban icon (Report Post as SPAM) immediately following the Timestamp of the post. Click this icon if you feel strongly that the content posted is not appropriate and should be reviewed by the Forum Moderator. You will be provided with a confirmation dialog to be sure you wish to submit this post for review. If submitted, the Forum Moderator will be notified to review the post and will determine what type of action to take.
Click in the upper right corner of this Help modal or anywhere on the web page outside of the modal to exit Help.
×