African Peanut Chicken
Dinner Appetizer
Main Dish
Dairy Free
This extremely flavorful dish is one of our family's favorites.
You are about to experience some amazing flavor! This particular recipe takes some of the most unique flavor options and combines them into something you've never tasted before. Peanut, coconut, ginger, and garlic will be a new favorite in your house! Serve on a bed of rice.
Serves: 6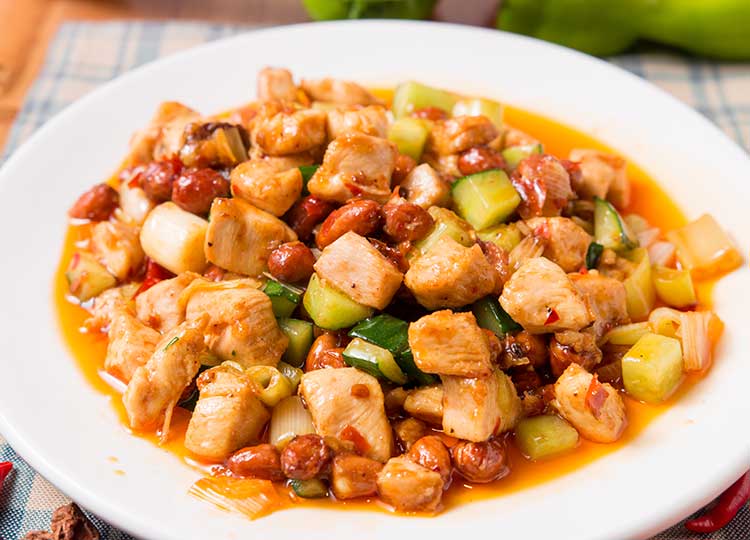 Ingredients
---
2-3 pounds Organic chicken breasts ( cut into bite size pieces)

2 tablespoons lemon juice

1/2 teaspoon salt

1 sweet onion sliced

2 teaspoons garlic minced

1 tablespoon ginger minced

1 tablespoon coriander

(optional) 2 teaspoons chili powder

28 ounces Canned tomatoes

1 1/3 teaspoons thyme

1/2 cup peanut butter

1 1/2 cup chicken stock
Directions
---
Combine lemon juice with chicken pieces and season with salt. Let marinate overnight. Heat coconut oil in large skillet. Add garlic, ginger and chili powder, constantly stir while cooking until browned. Set aside in a bowl. Add chicken and onion. Saute until cooked through. Combine with ginger mixture and refrigerate. Using the same pan, stir in tomatoes, thyme and crushed red pepper. bring to a simmer. Add cooked chicken. Reduce heat and simmer, stirring frequently, until thickened. You want to get a thin gravy like thickness. While simmering, cook Jasmine or other high quality rice.
Serve African Chicken over rice and enjoy.

 Discussion Forum Help
---
Comments are displayed in order of the last one posted so the most recent Comment is at the top and older Comments are towards the bottom. Replies within a Comment are displayed in reverse order with the oldest Reply at the top and the most recent one at the bottom.
Each post identifies who made the post and the date and time the post was made.
Mouse over the icons for tooltips that explain what the data means.
If you see this icon you can attach an Audio file to your post.
If you see this icon you can attach a Document file to your post.
If you see this icon you can attach an Image file to your post.
If you see this icon you can attach a Video file to your post.
You will see the Ban icon (Report Post as SPAM) immediately following the Timestamp of the post. Click this icon if you feel strongly that the content posted is not appropriate and should be reviewed by the Forum Moderator. You will be provided with a confirmation dialog to be sure you wish to submit this post for review. If submitted, the Forum Moderator will be notified to review the post and will determine what type of action to take.
Click in the upper right corner of this Help modal or anywhere on the web page outside of the modal to exit Help.
×