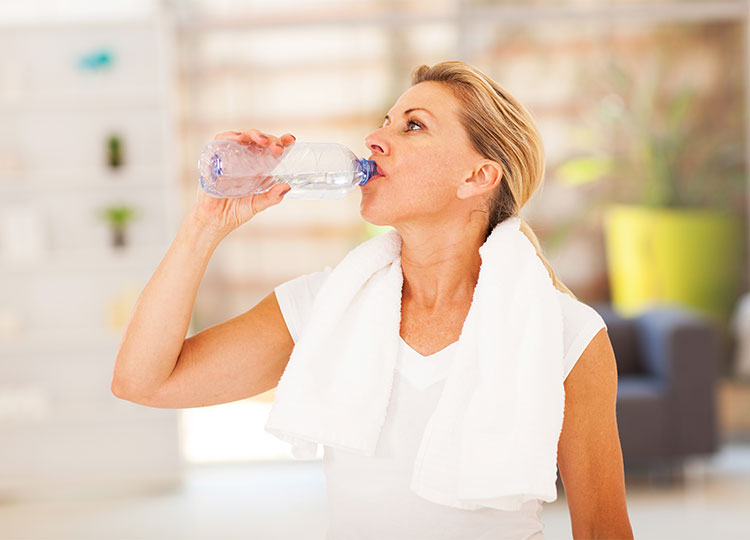 Staying hydrated keeps your body in optimal condition, prevents brain fog, and increases your energy!
Water Is Powerful?
Top Reasons To Drink Water
#1 It Just Makes Sense
One thing I have promised myself and my readers is that I would at no point be a fear monger. There are all sorts of wives tales and outlandish claims about water and hydration. If water alone really cured disease, then we would all be healthy right?
I humbly assert that we humans who are composed of approximately 60% water should consider hydration an important health priority. Why? Because it just makes common sense.
If you use up the building blocks for a healthy body (like water), it stands to reason that your body cannot function properly. Please know that I do not believe that people who drink less than 8- 8 ounce glasses of water a day will shrivel up and die in the next few weeks. We all know that's urban legend! But here are some facts you may not be aware of...
#2 Dehydration and Depression
Many things can get you down. A flat tire, stubbing your toe, crying babies, alarm clock malfunctions... But did you know that even mild dehydration can cause the blues? A study in the Journal of Nutrition from January of 2012, women in their early twenties experienced mild dehydration which caused headaches, concentration levels, and mood issues. They also perceived that tasks were more difficult to do, even though their actual mental abilities did not appear to change. Fatigue was another side effect of the induced mild dehydration.1
So, how does this pertain to weight loss, you may be wondering? It is not a huge stretch to perceive that dehydration could cause discouragement, and might prove a barrier to that will power you need to reduce your weight permanently.
#3 Burn Calories with Water
What if drinking two glasses of water could actually increase your metabolic rate by 30%? Sound like science fiction? It's actually science fact!
A study in Germany suggests that water may actually act as a natural calorie burner.2
After subjects drank approximately 17 ounces of water, the subjects' metabolic rates - or the rate at which calories are burned - increased by 30% for both men and women. The increases occurred within 10 minutes of water consumption and reached a maximum after about 30 to 40 minutes.
I say cheers to water for that!
#4 Best Drink For Your Body
After reading an article about an actor drinking large amounts of coke to gain weight for a role, blogger George Prior was curious. Could he duplicate this phenomenon? In 2014, he decided to drink 10 Cokes a day for a month. While his experiment was extreme (I don't know anyone who consumes this much soda on any given day) the results are telling. According to his website, 10cokesaday.com, his health was affected tremendously!3
According to his website and subsequent national news articles, he gained 23 pounds (from 168 to 192) and his body fat increased by a whopping 65% (from 9% to 16%)! Even though you may be consuming one soda a day and not 10, think about the implications. If you do that math, that could mean a 6.5% increase in body fat in just one month.
#5 Eat Your Water
Did you know that the average fruits and veggies are up to 20% water? Processed foods are much lower in water volume and contain chemicals and preservatives that can derail your weight loss plan. Increasing your fruit and vegetable intake is a simple way to get hydrated while providing nutrients your body needs to function properly.
Watermelon, strawberries, cantaloupe and peaches have the highest water content of fruits at close to 90%. In the vegetable category, cucumbers, lettuce, celery, and zucchini are top rated for water supply.4 Adding fruits and vegetables not only nourishes your body, but also hydrates!
But What If You HATE Water?
Here are my top tips for getting water into your life. Remember, every step you take toward hydration is a step in the right direction. If you can only handle 8 oz per day now, do it! Just set the goal to continue adding more water into your life over time, and before you know it, you too will be hydrating!
Infuse your water with some flavor. My favorites: lemon, lime, berries. Make it cold- ice helps!
Brew tea. If you absolutely can't stand water, try making green or herbal teas. You're still hydrating, and you're getting some additional health benefits.
Measure your success. Set hydration goals and measure your progress.
Try different types of water. I know this might sound crazy, but waters from different regions really do have differing tastes. Try bottles from other places and see if you develop an affinity to a certain kind. (My favorite is Fiji.)
Get a filter. If your tap water has a funny taste, try getting a water bottle or pitcher with a filter. Sometimes something as simple as filtering your water can improve the taste tremendously. Add water to every meal. Be sure to drink a full glass of water at every meal. This will help you slow down and enjoy the food, while getting the hydration in too!
Citations:
1 Armstrong L.E. Journal of Nutrition, 2102.
2 Michael Boschmann, MD, Franz-Volhard Clinical Research Center in Berlin. The Journal of Clinical Endocrinology and Metabolism.
3 10cokesaday.com
4 http://healthyeating.sfgate.com/list-fruits-vegetable-high-water-content-8958.html