---
NuMedica GS Micellized D3 + K2 - 1 fl oz
New
Gluten Free
Immune & Bone Support with Vitamin K2
Supports bone health and immune system function while promoting nutrient absorption.
Size: 1 fluid ounce
UPC: 812527016255 SKU: NM979


view related products
NuMedica Micellized D3 + K2 for Water-Soluble Vitamin D3 to Support Immunity and Bone Health
Researchers suggest that many people are not getting the amount of vitamin D they need to support optimum health. NuMedica Micellized D3 + K2 improves the solubility of vitamin B as well as its absorption. This improvement means that more vitamin D is available to the parts of your body that need it. As nutritionists report, vitamin D3 is an important one for your body. The body, of course, does have the ability to make this essential vitamin; however, if you aren't getting out into the sunlight regularly-and with concerns about skin cancer, there is some reason to avoid too much sun time-your body can't make this vitamin. A supplement like NuMedica Micellized D3 + K2 fills in to provide you with the vitamin D3 you need whether you spend time in the sun or not.
Vitamin D for Health
Modern medicine has been well aware that vitamin D is integral to bone health for about the last century. As more research about the vitamin was performed, researchers learned that vitamin D also supports immune health. It's important to think of vitamin D as an important facilitator of other vitamins. For instance, for your immune system to function properly, phosphorus and calcium need vitamin D to facilitate their absorption into the body. If you lack vitamin D, your immune system isn't likely getting the phosphorus and calcium it needs to support optimum health.
Ward off a Vitamin D Deficiency with NuMedica Micellized D3 + K2
NuMedica Micellized D3 + K2 helps provide your body with the vitamin D it needs to foster good health. If you tend to spend little time outdoors and wear lots of sunscreen when you are or live in a city where buildings block sunlight, you could be at risk for vitamin D deficiency. Working indoors and pollution also detract from sunlight exposure. Although you can obtain vitamin D by spending time in the sunlight and eating fortified foods such as yogurt and milk, you may still need more vitamin D than these elements can provide.
Supports bone health
Enhances immune system function
Water-soluble and fat-soluble
Improves vitamin and mineral absorption
| Product | ServingSize | NumberServings | Directions |
| --- | --- | --- | --- |
| GS Micellized D3 + K2 - 1 fl. Oz. | 1 Drop | | Adults take one full dropper (20 drops) daily or as directed by your healthcare practitioner. Caution: Keep out of reach of children. Not recommended for children. |
One Dropper (20 drops) Contains:
| Ingredient | Amount |
| --- | --- |
| Vitamin D-3 (as cholecalciferol) | 1,200 IU |
| Vitamin K2 (natural vitamin K2 as MK7†) | 50 mcg |
  Related Wellness Resources
We encourage you to take advantage of these FREE Wellness Resources on our website.
---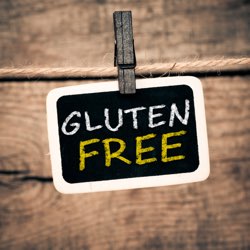 So What's The Big Deal About Gluten?
Is Gluten Bad? Gluten just is. The problem is, it generally is not being used in the correct proportions any more. So let's take a moment to explore what gluten really is.

What's on Your Mind?
Ask questions. Share your thoughts. Note that we cannot answer questions relating to specific medical conditions - please refer those to your qualified healthcare provider. Post a new Comment or Reply to an existing one.
Help for using the Discussion Forum.
What's on Your Mind?
Share your thoughts. Post a new Comment or Reply to an existing one.
Help for using the Discussion Forum.
 Discussion Forum Help
---
Comments are displayed in order of the last one posted so the most recent Comment is at the top and older Comments are towards the bottom. Replies within a Comment are displayed in reverse order with the oldest Reply at the top and the most recent one at the bottom.
Each post identifies who made the post and the date and time the post was made.
Mouse over the icons for tooltips that explain what the data means.
If you see this icon you can attach an Audio file to your post.
If you see this icon you can attach a Document file to your post.
If you see this icon you can attach an Image file to your post.
If you see this icon you can attach a Video file to your post.
You will see the Ban icon (Report Post as SPAM) immediately following the Timestamp of the post. Click this icon if you feel strongly that the content posted is not appropriate and should be reviewed by the Forum Moderator. You will be provided with a confirmation dialog to be sure you wish to submit this post for review. If submitted, the Forum Moderator will be notified to review the post and will determine what type of action to take.
Click in the upper right corner of this Help modal or anywhere on the web page outside of the modal to exit Help.
×
NuMedica GS Micellized D3 + K2 - 1 fl oz
$
31.90
New Available online