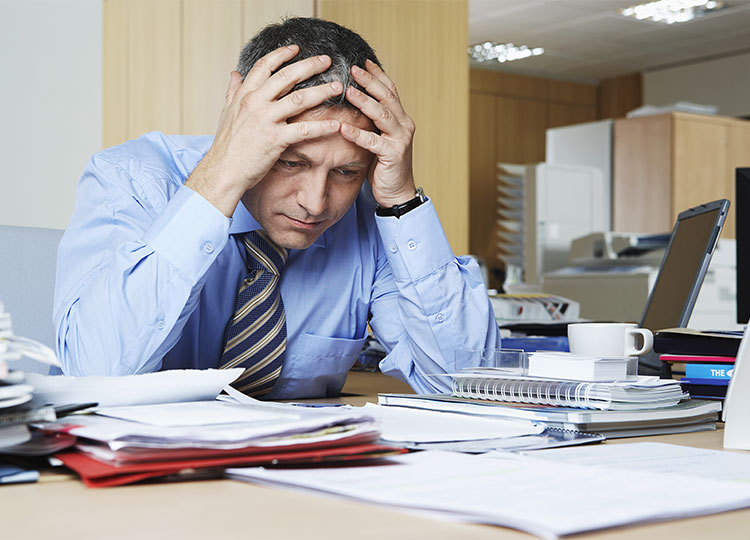 A stressful lifestyle can harm the body.
Don't Try To Control, Try To Create
For many years, I thought the key to defeating stress was controlling or managing it, but very often I felt like singing the melodramatic song "I Can't Fight This Feeling Anymore". If you are anything like me, the stress control concept is a dismal failure. In recent years, I've changed my tactics from controlling to creating options. If I perceive that I am trapped, or stuck, or otherwise not in control of the situation, I am stressed. If I perceive that the person or situation I'm dealing with is unpleasant, but I also perceive that I can create multiple options to deal with that situation, suddenly and miraculously, my stress reduces. If I feel the effects of chronic stress in my body, I feel ill. How, practically speaking, can I create options?
Step 1: Understand The Situation & Adjust Expectation
When I was in college, I worked with school aged kids with Autism and ADHD when the field was newly emerging. Many of the parents were frustrated with the situation they found themselves in. There were very few resources available to help families cope with the diagnosis, the children would act out impulsively, and the parents would be frustrated that the kids were setting "bad behavior" examples for their younger siblings. On several occasions, we reminded the parents that these children never asked to be a first born or an older sibling, and that setting a good example to younger kids was an unrealistic expectation being placed upon them. We would help them talk through proper expectations and reduce the anxiety of all involved.
This example may seem unrelated to your stress, but I assure you, special needs kids are not the only people in the world who have unrealistic expectations placed upon them. We do it all the time to friends, family, and even strangers! Sadly, we also do it to ourselves. How often do you beat yourself up about things you can't control?
The next time you feel stressed out, ask yourself, "Am I placing unrealistic expectations on myself or the world around me?" If the answer is "YES!", then coach yourself through changing your expectations. Jack Canfield teaches a powerful concept: turn from being your inner critic to your inner coach. Don't beat yourself up, learn, grow, and push to be better!
Step 2: Discover What Can Be Agreed Upon
Michael Wilkinson, CEO of Leadership Strategies (a professional facilitation company), talks about a very unique concept in communication: Violent Agreement. "The parties really agree, but they don't know it, so they continue to argue."(1) I see this all the time in our group sessions with wellness teams. Two people want basically the same thing, but they are so entrenched in defending their viewpoint, that they don't take the time to listen. Once they do, they usually say something like, "You meant ____? Why didn't you just say that- that's what I want too!"
A funny example happened as our two teenaged sons were doing spring cleaning and minor house repairs with my husband. He was exhausted, but he was also very proud of the hard work the boys had put in. He needed to know that they were not going to quit on him at the end, so he began talking with them and praising them for their efforts. Then he said we have a whole lot of work to complete, and left the sentence hanging. The boys agreed quietly and kept doing their work. This is the moment when the violent agreement occurred. My husband wanted the boys to not only agree that there was much work to be done, but he wanted them to volunteer to continue. The boys were planning on continuing until completion because that was what was agreed upon. Because my husband did not state his expectation (enthusiastic response), and the boys did not state theirs (we already agreed, nothing more to discuss), my husband wrongly assumed that they were not willing to continue enthusiastically. They got their feelings hurt because he assumed something about them that wasn't true and said it. After a few minutes of tension, we discovered that everyone had the same expectation, and there was nothing to argue about.
This example shows how easily we can agree with someone else and yet not get the desired effect. So why not begin by focusing on what can be agreed upon, then hashing out the finer points? In our chores scenario, everyone could agree that they had gotten a whole lot done, and that there was more to do. They could also agree that they needed to work together to complete, and they were enjoying working together. Once they did that, it would have been obvious that completion and attitude were not issues, and they could happily move onto other things.
When you feel stressed with other people, ask yourself if you are experiencing a "violent agreement". Then act as your own coach again to help find common ground.
Step 3: Question Your Stand
"In 100 years will this really matter?"
When I was very sick a few years ago, I stressed about the smallest things. I am convinced I had more fatigue, pain, and sick days because of the stress I placed on myself. As I walked further down the path, I developed a question I would ask myself when I felt the panic rising. By asking myself if the stressful issue would matter in 100 years, I immediately eliminated most of my stress. For example, "If my daughter wants to wear mismatched clothes to school, will that matter in 100 years?" or "Will getting to the Christmas party on time matter in 100 years?" Obviously, the answer to both of those is probably not! This question also helped me focus on what really matters, because sometimes the answer to this question is a resounding "YES!" For example, "Will the time I spend helping my child build character matter in 100 years?" or "Will donating to a charity that helps ease world huger matter in 100 years?" You can put on you 100 years glasses and look into the future to help you decide what is worth your time and attention.
Step 4: Self-Care
Stress is not only in our head, it also affects our body. Most of us walk around in a chronic stress state, meaning, we do not have small bursts of stress that punctuate an otherwise calm life. The stress hormone, cortisol, produces a "fight or flight" response in our body. In an emergency situation, this stress response will probably save your life, but chronically it is very damaging to you! The Mayo Clinic explains it this way, "The long-term activation of the stress-response system - and the subsequent overexposure to cortisol and other stress hormones - can disrupt almost all your body's processes. " (2) So what can we do?
Tip #1: Support your body with good supplements
Adrenamed gives your adrenal glands needed help to deal with the unavoidable stresses of life. Many of our clients consider this their "must have" supplement to make it through the stress of life. They report decreased fatigue and better stress response by supporting the gland that is our cortisol (stress hormone) factory. Adrenal glands can get worn down by chronic stress!
Power Greens help your body detoxify from oxidants (like rust in your body). Oxidants are bad news causing a host of problems like: cancer, premature aging, and neurologic issues. In fact one study from 2009 says, "Apart from several other environmental or genetic factors, oxidative stress (OS) leading to free radical attack on neural cells contributes calamitous role to neuro-degeneration."(3)
The nutrient Inositol has been shown to reduce anxiety in several studies actually helped with OCD symptoms better than traditional medications.(4) To get inositol into your life, you can use:
Tip # 2: Eat Your Greens!
There is power in a healthy diet! remember that every time you eat or drink, you are filling your gas tank! You wouldn't pull up to the gas station, then dump sugar in the tank of your car would you? Neither should you expect to run your body on the wrong kind of fuel! If you know you don't eat enough balanced highly plant based foods, we suggest a multi-vitamin like Multimedia.
Tip #3 Eustress Yourself
Finally, I want to encourage you to be good to yourself. There are 2 kinds of stress, distress (what we commonly know as "stress") and eustress or good stress. Hans Seylee is the father of this field of study and he encourages people to decrease the bad stress, but increase the good stress. So when life feels out of control, sing at the top of your lungs with the radio, go see a funny movie, exercise, laugh with friends, do something YOU love. I guarantee you will feel better about the world around you!
Remember, by adjusting your expectations, finding agreement, choosing what's really important to you, and caring for your body, you can fight back against the tide of chronic stress.
Citations:
1 Michael Wilkinson The Secrets of Facilitation
2 http://www.mayoclinic.org/healthy-lifestyle/stress-management/in-depth/stress/art-20046037
3 Current Neuropharmacology Oxidative Stress and Neurodegenerative Diseases: A Review of Upstream and Downstream Antioxidant Therapeutic Options Author(s): Bayani Uttara, Ajay V. Singh, Paolo Zamboni and R. T. Mahajan Pages 65-74 (10)
4 Inositol and Trichotillomania Fred Penzel, Ph.D. InTouch Issue 25 © 1997